Tuesday, January 3, 2012 at 7:01PM
Let me preface this review by saying that this is the J Crew Factory Schoolboy Blazer in Navy.
Okay, now let the gushing begin! I love, love, LOVE this blazer. It is actually my first casual blazer (okay, that's a lie). It is my first casual blazer that I liked. Other blazers either didn't fit well or were to glitzy for everyday wear. But this one is a gem!
The wool outer layer is soft and not at all itchy. The jacket is lined with a satiny material. The two side pockets are nonfunctional and are sewed shut (probably my main qualm about the garment). This blazer can be considered lightweight. It is not too thick, but is not thin and flimsy either. I wore it out today in 70 degree weather and it was a tad warm, but not uncomfortable. I can imagine I would be able to wear it in colder weather, maybe down to the fifties. Ah, I am spoiled by warm southern California weather.
The fit is great. I am 5'5" - 5'6" (depends whether I'm slouching I guess, which I do much too often :( ) for reference. The jacket hits perfectly at the upper hip, probably where the hip bones protrude. It fits perfectly on the shoulders, but is a little snug on the armholes when I reach forward. I sized up for the Hacking jacket so we'll see how that works out. The sleeves hit perfectly an inch beyond the wrist.
I prefer wearing my jacket unbuttoned, just for the increased freedom while moving. The buttons are beautifully detailed, but are a little lightweight. The jacket is a little boxy unlike the more streamlined Hacking, but I love it anyway. Leaving the jacket open eliminates the boxiness.
Here are some images:
J Crew Stock Photo
Hanging: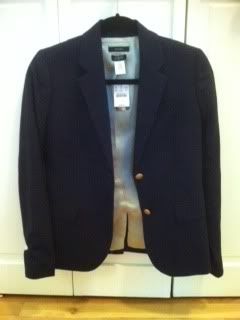 Wearing with the buttons fastened: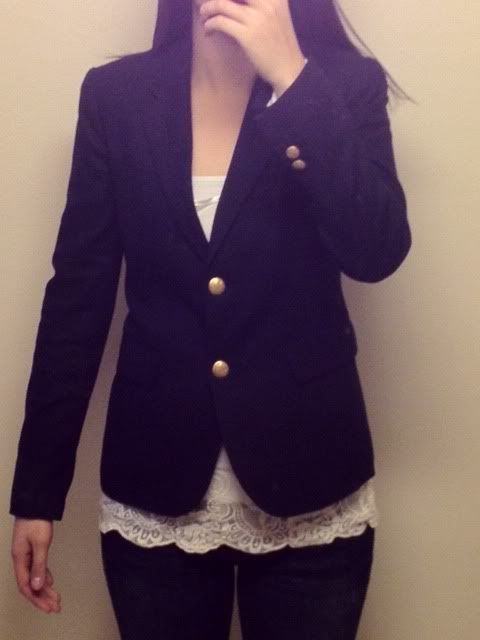 Wearing with the buttons unfastened: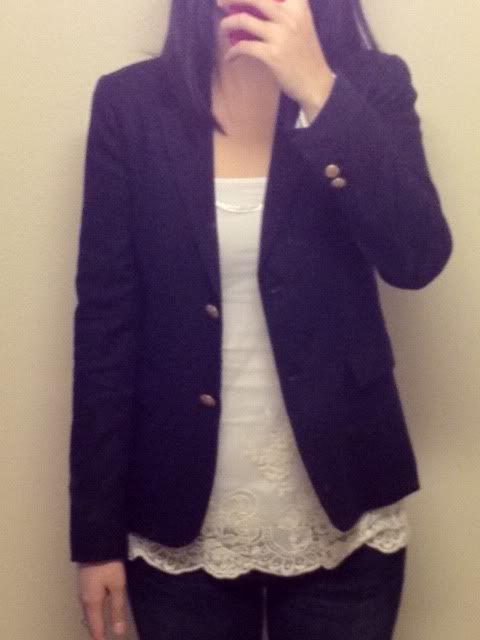 Four Gold Buttons on the sleeve tip: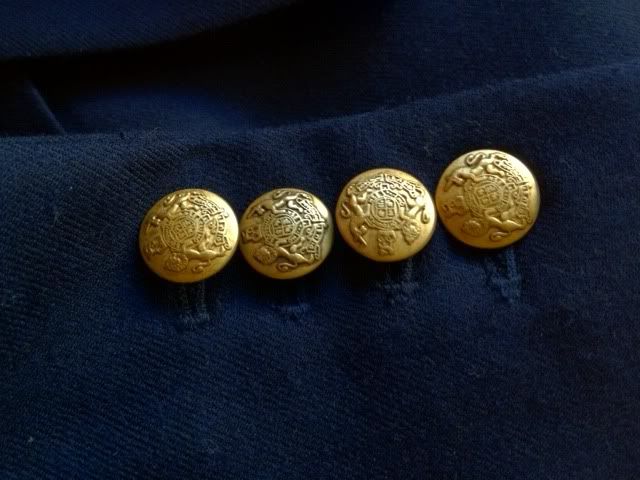 Front Buttons: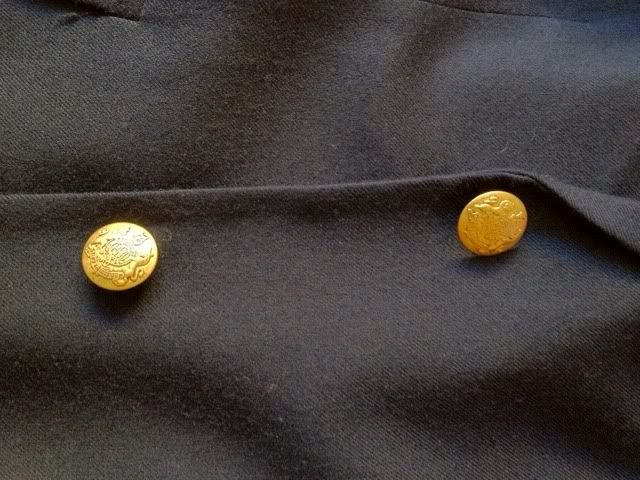 Because of this blazer, I have been on a blazer binge and have purchased 2 more from the J Crew online store! Uh oh... I'll do a review and comparison when the Hacking jackets come. I also plan to buy another Schoolboy blazer soon, so I'll do a comparison between regular and factory quality as well!
All in all this blazer is a 98/100 for me! I docked one point for the snug armholes which tickle my axillae and another for the nonfunctional (but still cute!) pockets.
Thanks for reading and I hope this post was informative! Comment with any questions and I'll be sure to answer them!
Love,
Kim
I retract my statement about the nonfunctional pockets! Thanks Jenny for bringing it to my attention. The pockets are simply basted and open up to wonderfully practical pockets!
Sorry for the misinformation.
Now this jacket is a 99/100 for me!