Monday, October 22, 2012 at 6:52PM
My love for colored jeans has not waned even into fall. Basic blue denim is always a steady option, but dressing up with a pair of bright pants is just so much fun. I tried on quite a few pants from jeans to trousers to sweatpants. So without further ado, lets begin.
J Crew Cafe Capri in Iced Lilac: (here)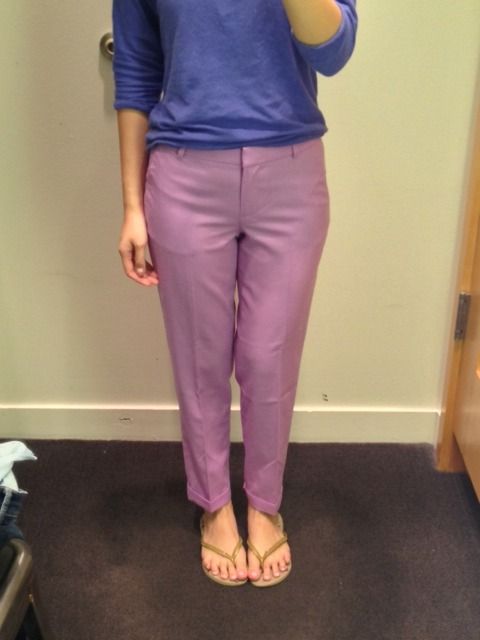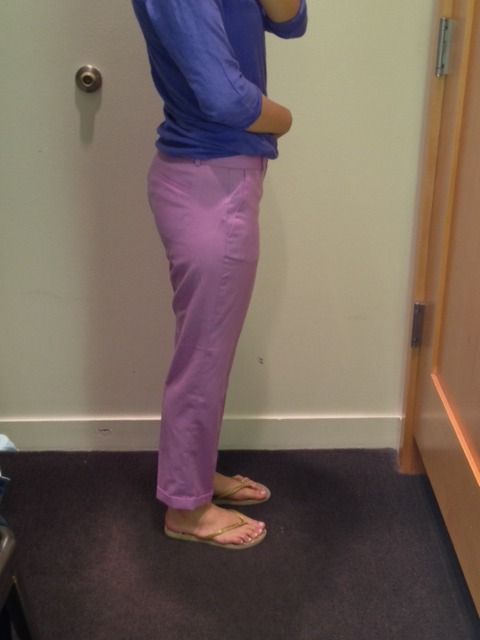 The pair looks a little less mauve and a tad more lilac than in my photo, not as light as shown in the stock photo however. I felt that it fit a little tighter than normal, compared to the cotton material cafe capri I was in a size 0. It was tight on the butt area, but loose on the thighs. The material was nice and thick. I passed on this because of the ill fit on me.
J Crew Toothpick Jean in Geometric Print (here)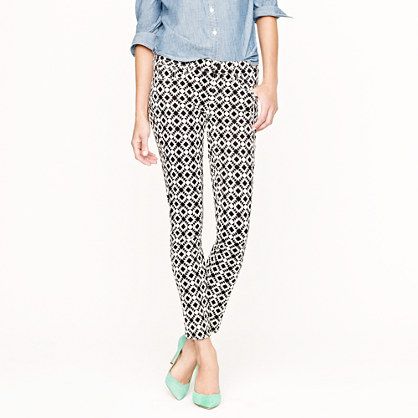 These bold pants really caught my eye on the shelf. The material is different from the garment dyed colored toothpicks. It a little stiffer and has less stretch. I would compare the texture to coated denim. I liked this new textile though. I thought it hugged the body better, held my thighs in more and was more flattering in general. I could see myself wearing this with a black or navy sweater and black chelsea boots or loafers. I'm pretty excited to wear this out! I am wearing a size 26.
J Crew Toothpick Ankle Jean in Garment-Dyed Twill, Vibrant Fuchsia (here)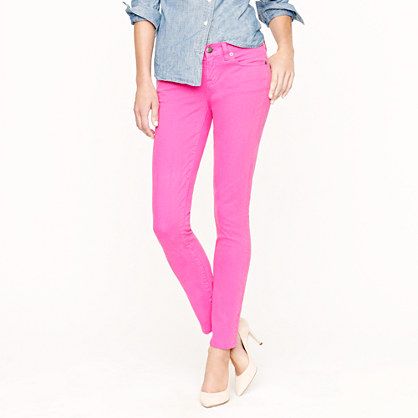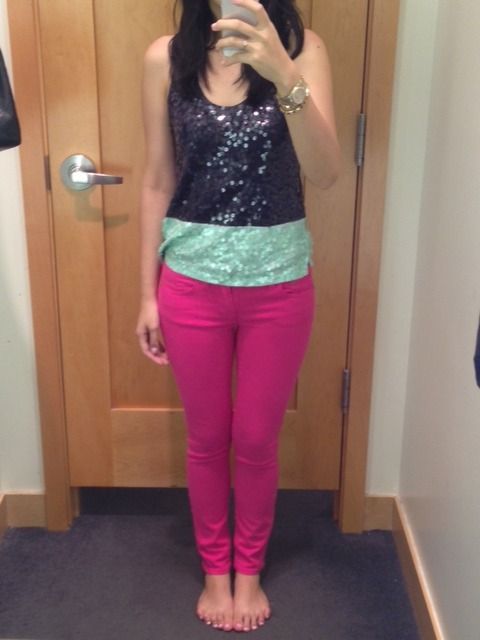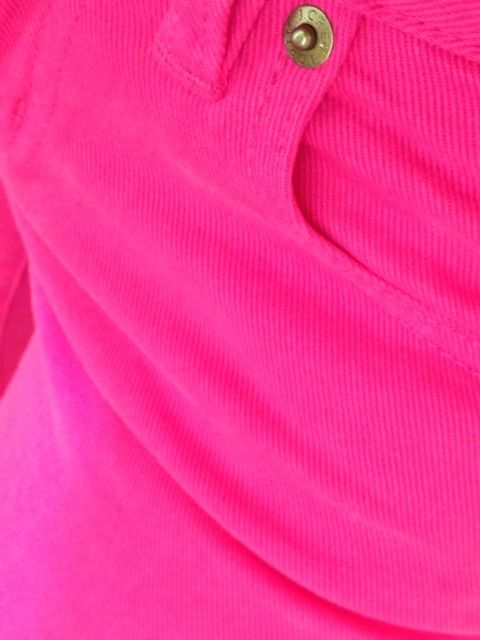 Interesting super bright denim for the fall. If you like bright, saturated pinks, this pair is for you. I'm not sure if there were small alterations made to the fit of their toothpick denim, but I feel that they are less flattering on me than before. I feel that they are quite snug on the thighs. I wore my regular size 26. Maybe I should try sizing up?
J Crew Toothpick Ankle Jean in Garment-Dyed Twill, Citron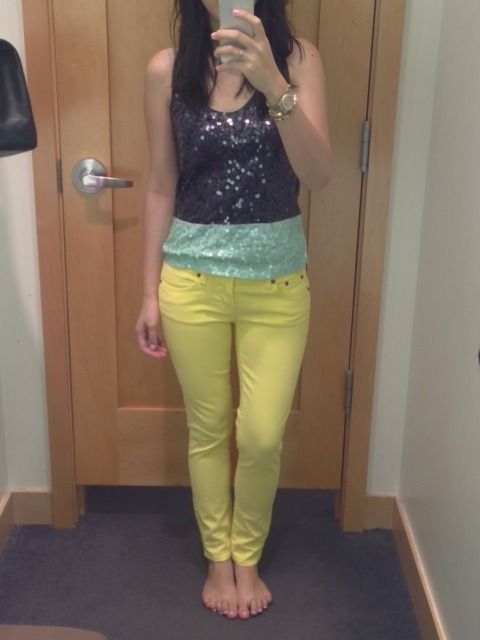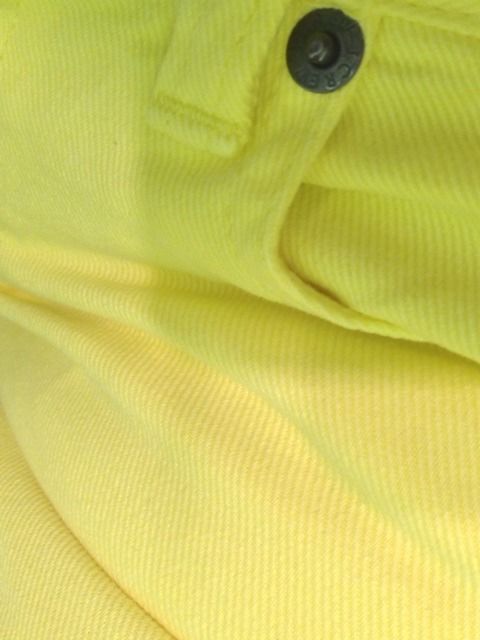 I couldn't find this one online, but it was among the 'New Arrivals' displayed in the store. Again the fit was poor in my opinion. These jeans really are unflattering on my thighs. Skipped this one.
J Crew Saturday Pant (here)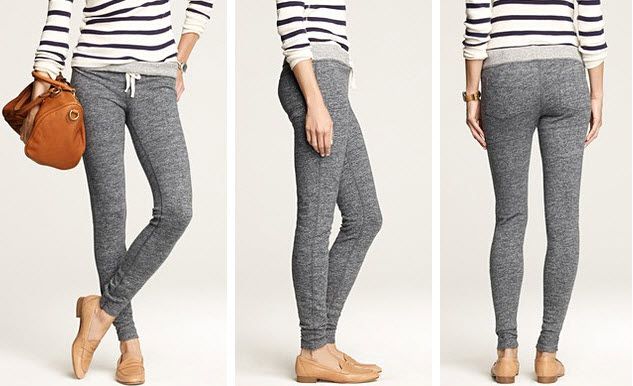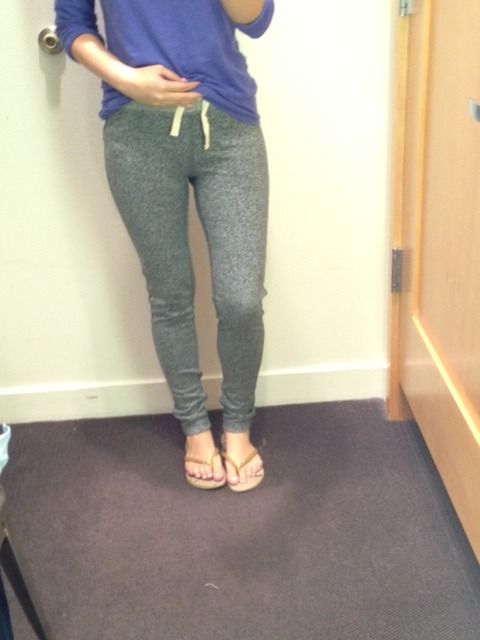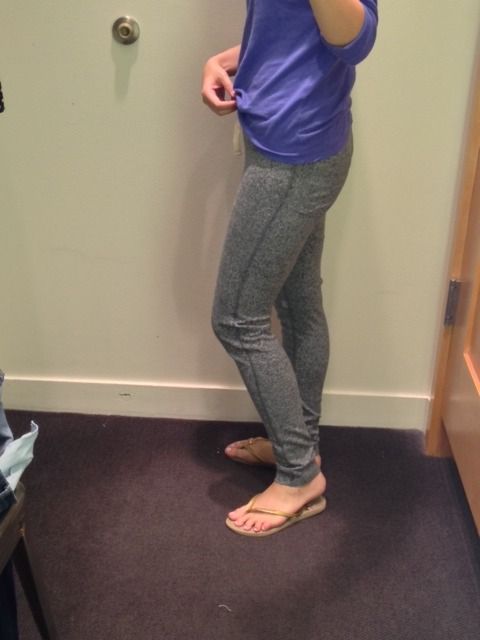 These pants feel very comfortable. They are thicker than tights, but thinner than sweatpants. Being snug from top to bottom, they are far from forgiving, but a good option for long plane flights or quick grocery runs if paired with a longer top or sweater. This pair is actually on sale online, unlike in the store.
J Crew Toothpick Cord (here)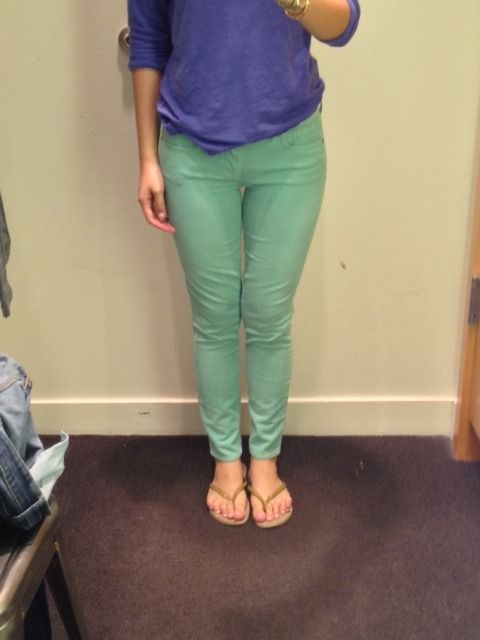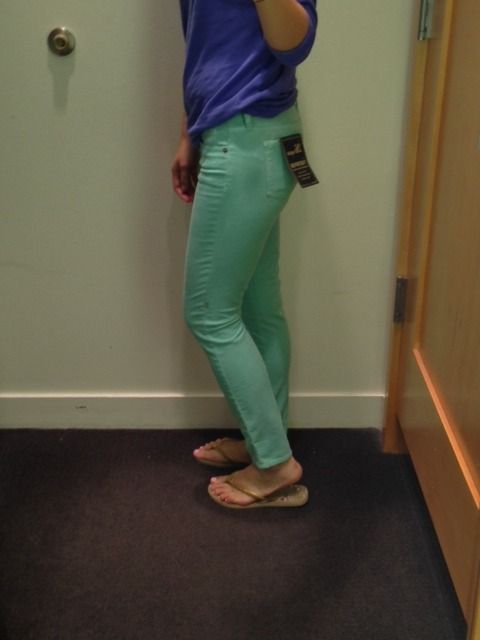 I'm not exactly sure about the name of this color. Online I want to guess "pale turquoise" but it is definitely less of a blue and more of a mint shade. This fits a tiny, tiny bit tighter than the toothpick denim, but not enough to size up. Again I was unhappy with the fit on the tights. You must be sick of hearing me complaining about the lower body fit, but I hope it can help pear shapes like me. Passed on this one.
Hope you liked my pants reviews! :) Thanks for reading and if you have any questions, please leave me a message or shoot me an email via the Contact Me page!
Love,
Kim