Thursday, October 4, 2012 at 11:55PM
Tonight my date and I headed to Providence LA for a birthday celebration. While researching restaurants in LA, we stumbled upon Providence and Melisse as good options for a fancy dinner out. We decided on Providence simply because it was rated 2 Michelin stars in 2009, before Michelin abandoned LA as one of its locations for publishing guides.
Providence LA is a very seafood-y place with lots of fresh and cooked seafood to choose from. I was not aware of this and thought that it was a French restaurant, nevertheless I was very excited to try it.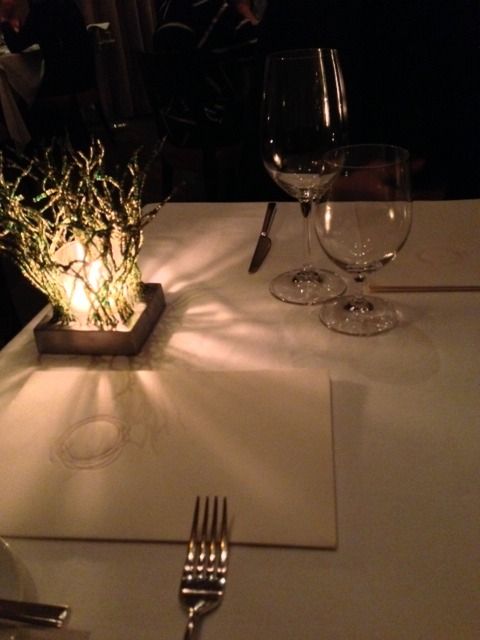 My friend and I both ordered the 5 course market tasting menu, oysters plus wine accompaniments.
Amuse Bouche's:
To tantalize our palate, the chef sent out 3 amuse bouches prior to our appetizer: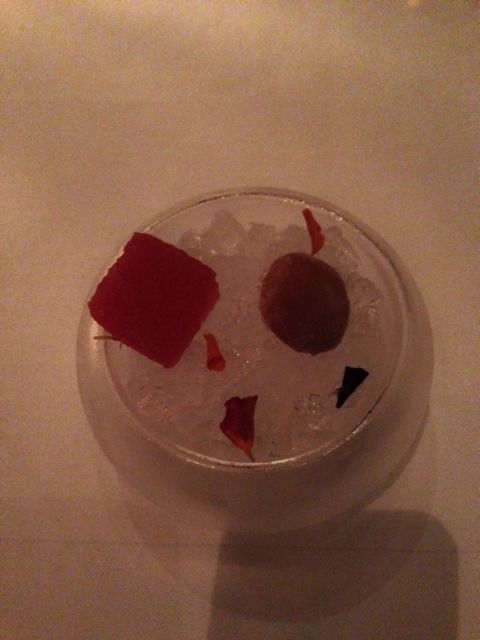 Frozen Watermelon soaked in Champagne and a Frozen Grape soaked in 2 types of alchohol: Delicious! The sweetness of the fruit and the sharpness of alcohol was perfect to wake up the palate! It looks quite simple on the picture as it did in real life, but the taste more than made up for it. I could eat those grapes all day long (and probably wake up in rehab haha!)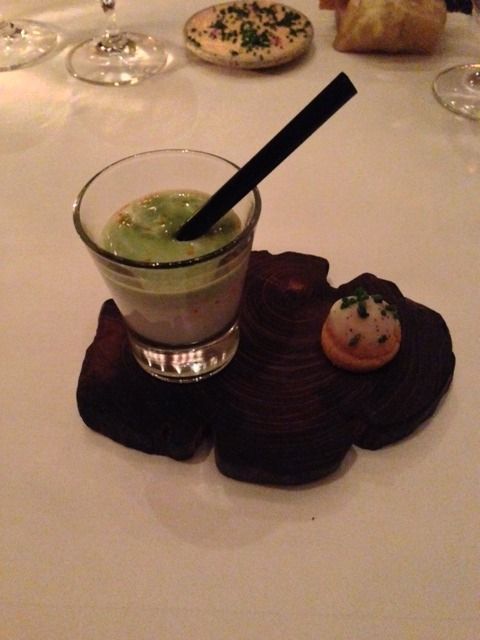 Chilled Zucchini Soup in Coconut Yoghurt and Cheese Puff topped with Bechamel: I honestly think that the chef concocted this dish to be "innovative", "creative" or "pioneering". It wasn't horrible of course, but there was a strong fishy taste in the liquid mix, almost like a salmon oil (orange dots). The soup was interesting to say the least, thick, salty with a strong marine aftertaste. I finished it though out of respect and just because I was plumb hungry. The cheese puff was warm with a strong cheese filling. Delicious!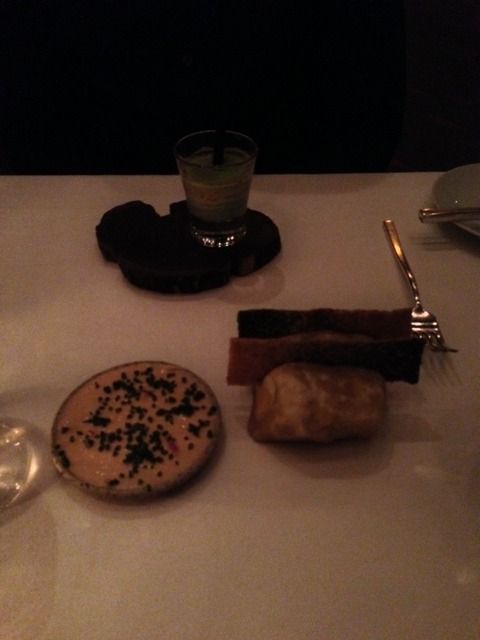 Deep Fried Salmon Skin with Salmon Cream Cheese: The crisp salmon skin just hinted with a taste of the fish and combined with the spunky dip was quite good, but not amazing. I had half a piece and decided to save my stomach for the rest.
I appreciated the 3 Amuse Bouche's. Not overwhelmingly delightful, but a welcome treat.
Appetizer:
Prior to our tasting menu, I ordered a selection of oysters to start and a pairing of sparkling wine.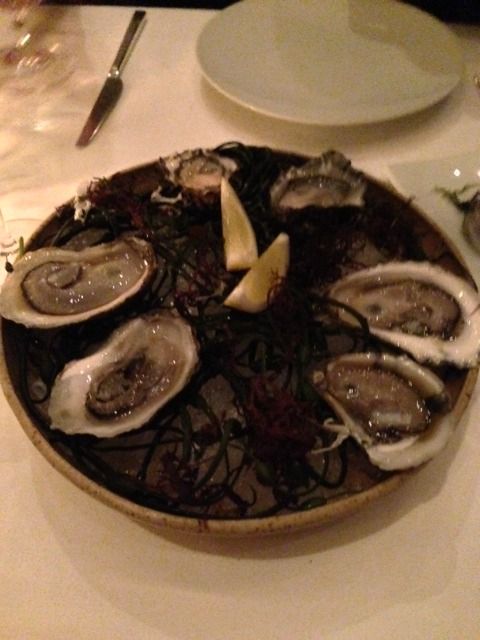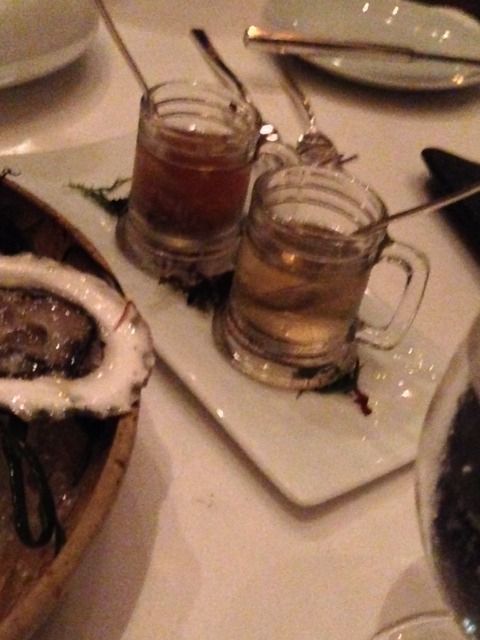 Kumamoto (washington), blue hill blonde (maine) or naked cowboy (new york) oysters traditional mignonette, cocktail sauce consommé: We were served 3 types of oysters, so I was able to try one of each. Each mollusk had a very specific taste and when paired with the savory (light colored) sauce and the tart/herby darker sauce, all emerged delicious. I very much preferred the ones on the right. Unfortunately I forgot the names!
Five Course Tasting Menu with Wine Pairing:
Finally the tasting menu started. By now I had already eaten all of the above PLUS 2 pieces of olive bread. Their butter is AMAZING by the way, it is thick, creamy and flavourful without being too creamy. To die for actually.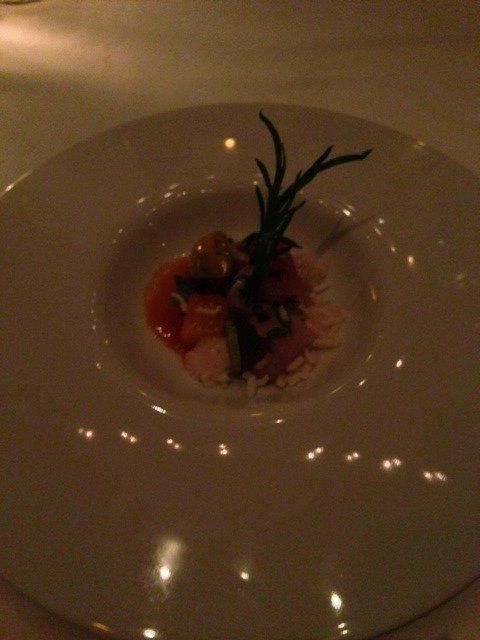 Japanese kampachi (uwajima) smoked tomato gelée, heirloom tomato, minutina: Sorry the image is so dull. We were served kampachi (almaco jack) sashimi, with tomatoes, crispy jasmine rice and a tomato froth. The fish was delicious! It was soft and had the right resistance to bite. The dish didn't have a fishy aftertaste and tasted very fresh! I loved it.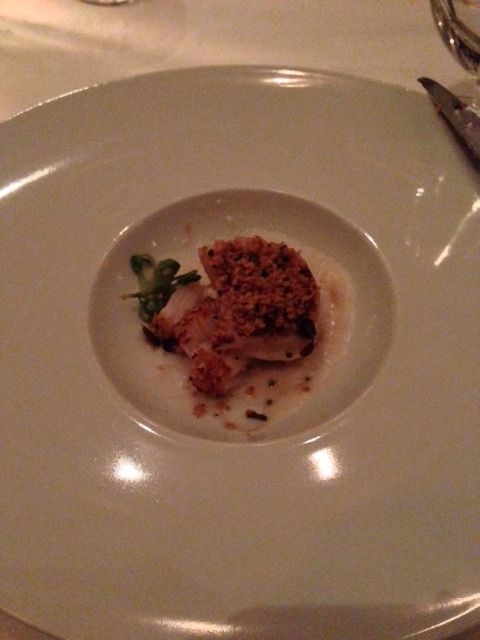 Live sea scallop (new bedford, ma) brentwood corn, pickled nectarines, vadouvan: Apologies that the dish isn't in its original form. Scallops are my favorite seafood so I was so ready to dig in. The scallop sat atop a glazed nectarine and was covered in some crunchy, nutty flakes. There was a white foam as well, but I cannot name it. Because I consider myself a scallop connoisseur, the way a scallop is cooked is of utmost important for me (I'm a scallop snob, I know). I like a scallop to be seared brown on the outside and very tender and moist in the inside. Unfortunately this dish was slightly overcooked which lent it a gummy texture, I expected a little more from such a celebrated restaurant.
MIDWAY BREAK: Woo am I getting full. Especiall of the wine. Let me just say that each glass complimented each dish PERFECTLY. As the dishes got heavier, so did the wines. Props to the sommelier on that: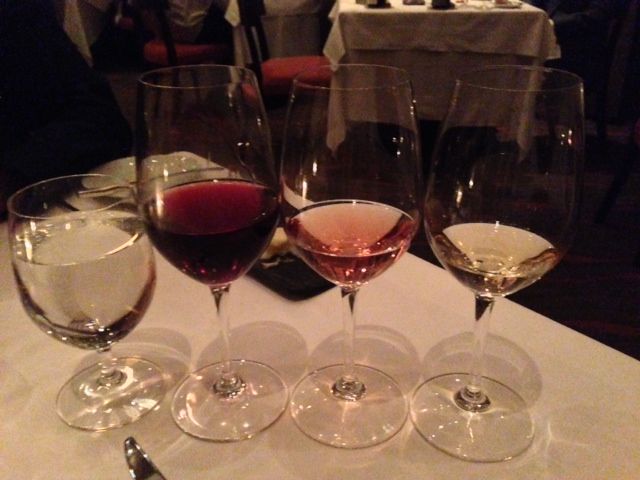 (Struggling to keep up with the wines. Finished 2, 3 on the table, 3 more to go!)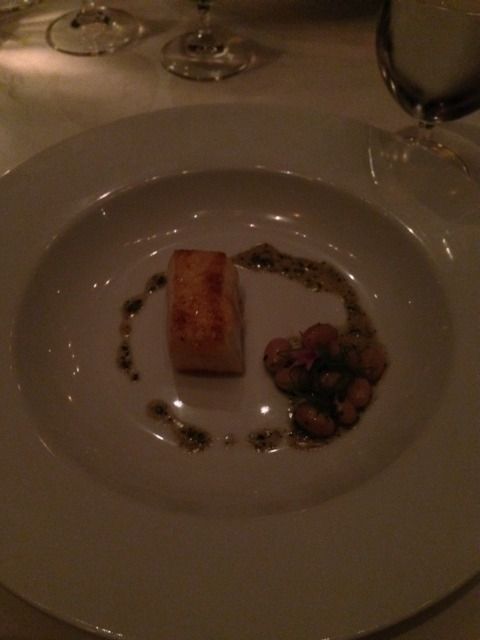 Wild halibut (alaska) two peas farms fresh cranberry beans, nori, brown butter: Great tender fish, yummy beans. Nothing much to say about this. I was happy (and getting full).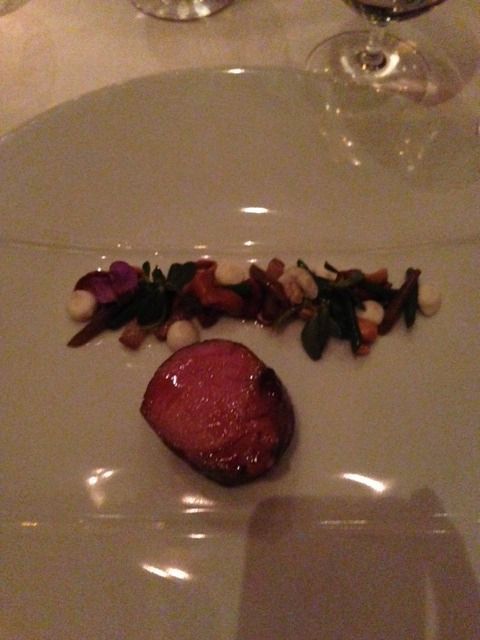 Dutch valley farms tenderloin of veal (holland, Illinois) chanterelles, la quercia bacon, haricot vert, hazelnuts, nipitella: So before anything, let me inform you that I have never had veal before. It's a moral thing, especially after viewing the deplorable conditions that the babies go through. I don't force my opinions on others however, so after a bite, I gave the rest to my date. That bite was great. The meat was so soft that my teeth felt like it was slicing through butter. The mixture of pleasure and guilt was...new? Thumbs up on this dish. Veal lovers will appreciate the purity of the meat. The side was another highlight. Veggies + bacon + mushrooms. How could you go wrong with anything with bacon?
Desserts: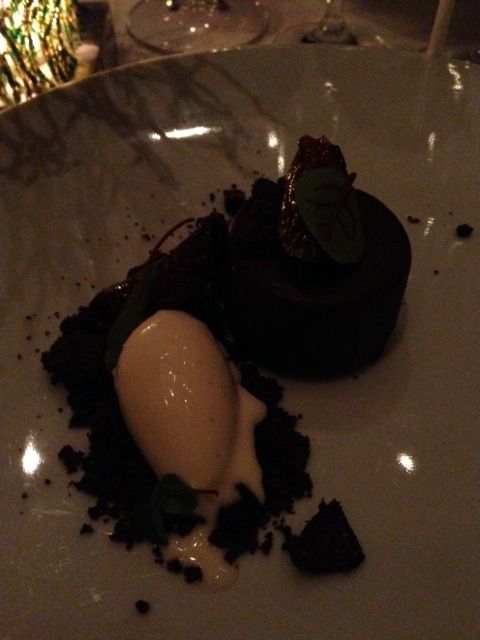 Manjari 64% espresso, sweetened condensed milk, gianduja, ube: A lovely chocolate mousse wrapped in hard chocolate accompanied with spiced ice cream, figs and crumbled graham chocolate. Confession time. I have a savory instead of a sweet tooth so I cannot give an appropriate judgement to this dessert. It was yummy, for sure.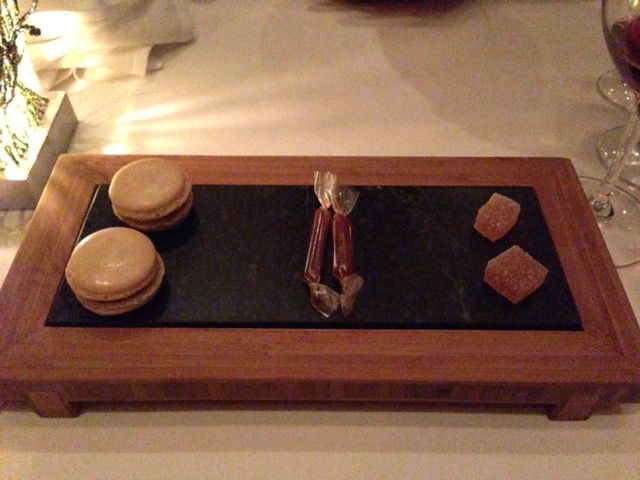 Hazelnut macaron with chocolate filling, caramel chew and apricot gelee. Loved the macaron! Caramel was sweet and yummy as you would expect and the apricot gelee was soft and slightly sweet. A cute way to end our dinner!
The decor was pretty and interesting (designed like an underwater pier), the service was spot on and the food was delicious. With great company what more could you ask for?
I would rate this place an 8.5/10. For the price ($450), there were definitely improvements to be made, but they were minute and didn't distract us diners from the experience. Did I mention the wine pairings were spot on?
Thanks for reading!
Love,
Kim