Sunday, December 23, 2012 at 7:59AM
As promised, here is the second part.
In this review I am going to show you the Stuart Weitzman 50/50 Boot in Black. The over-the-knee (OTK) style is the more popular one for this boot, but I don't know if I could pull off the OTK look. I'm sure a lot of women can do so classily, but I think it makes me look a little pretty women-esque. But I decided to bite the bullet and get the OTK look anyway since so many women were raving about them. Imagine my surprise when I discovered that they also came in a knee high version! :D
So here they are:
Stuart Weitzman 50/50 Boot in Black (here, here or here)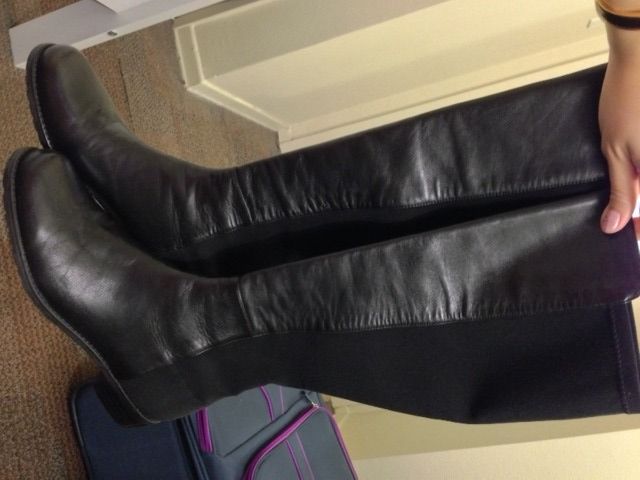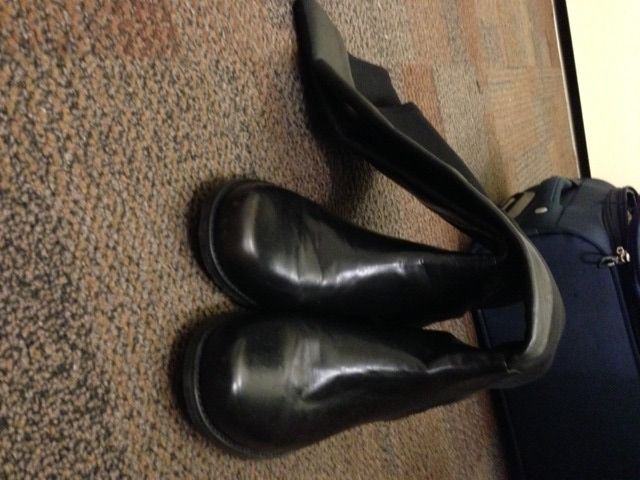 The boot is appropriately called the 50/50 because it is half Nappa leather (or suede if you wish) and half neoprene, a wetsuit-like materal. The boot, unstretched is quite narrow at 12-12.5" around. It is also very soft, and the shaft will not stand on its own.
The soles are rubber with the name "Stuart Weitzman" emblazoned on.
Now for my thoughts. This is seriously the softest leather that I have touched...even more so than the inside of a Chanel bag, if I might say. I'm worried that it might scratch easily, but I've worn it out twice and so far so good. The elastic neoprene is great! It is quite thick so it doesn't over stretch and it does a great job of staying on the calf without slipping down. The beauty of the boot is how amazing and slim it makes your calves look. Here is a picture of me wearing the boot on one leg and none on the other, so you can see that it pretty much skims over your leg. There is little bulk anywhere.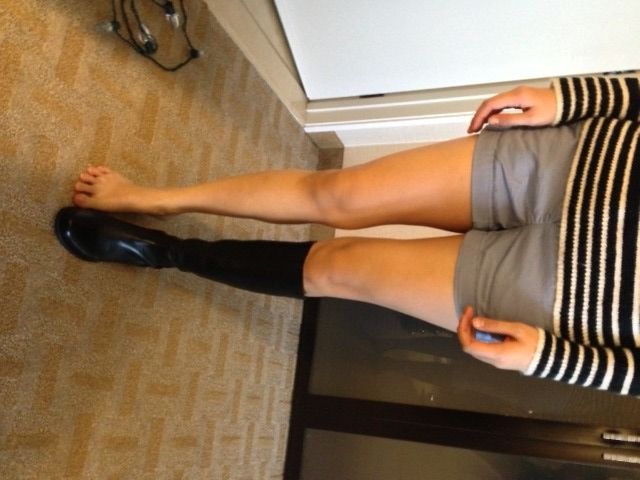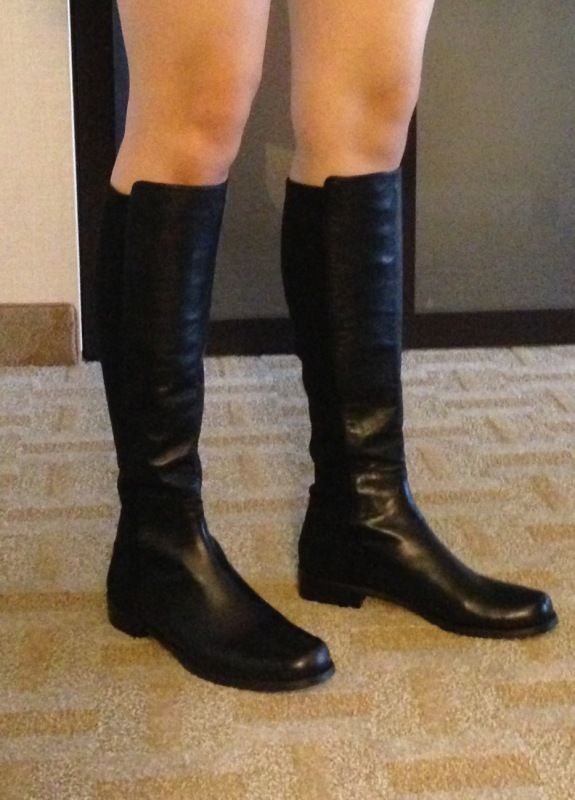 The one gripe that I have (aside from the $600 price tag, ugh) is that since it is a pull on boot, I probably cannot wear it with jeans. It seems really difficult to roll down the shaft and roll it back up over denim. I have so far worn it with a bare leg and tights and there is no problem with that!
So, I know this boot is quite pricey (It does go on sale between $400-$500 once in a while), but it is very much worth the money. The materials and craftmanship are top notch, and the boot is very comfy. It fits great over the leg, especially for ladies with slimmer calves where boot-buying can be a problem.
Thanks for reading! I'll post an outfit pic with the boot in a bit!
Love,
Kim
Kim
|
10 Comments
|
tagged
Stuart Weitzman
in
Reviews,
Shoes