Monday, December 24, 2012 at 8:49PM
As the fires warm us on this cold winter eve, I would like to wish everyone the merriest of Christmases and the happiest of Holidays. Thank you for visiting my blog and I hope my posts continue to be useful and entertaining. Your visits and comments bring me great joy!
I went to a nearby J Crew on the 24th to see what was new in store. Nothing much really. But I did try on a few things.
J Crew Minnie Pant in Boulevard Green (here)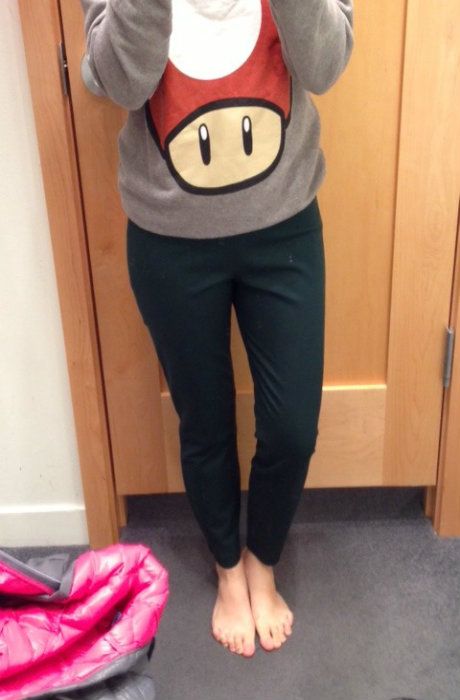 This is the 2nd time I tried the Minnie pant and my verdict remains the same. While it may be flattering on some ladies, I don't like the fit on the thighs and calves. The material kind of bunches out in the calf area and narrows at the ankle making my calves look more muscular than they are. I think the Cafe Capri is a better fit for me. I am wearing a size 2.
J Crew Classic Mini Felted Wool in Brilliant Fuschia (here)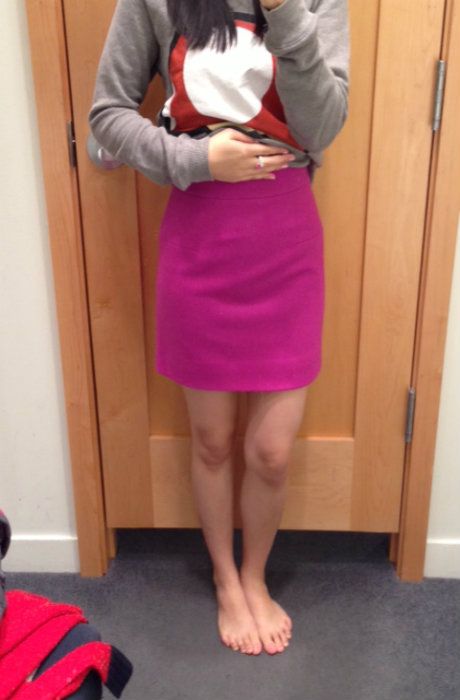 I liked this skirt a lot. Since it flares out a little at the end, it looks better with a tucked shirt rather than with the top draped over it. The color is a little more purple and less magenta than in this pic. I am wearing a size 00 here. It was also on sale for $69.99.
J Crew Liberty Toothpick Jean in Emma and Georgina (here)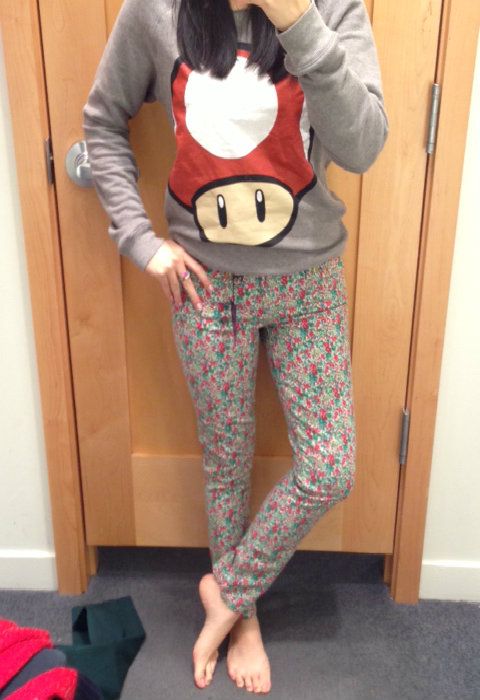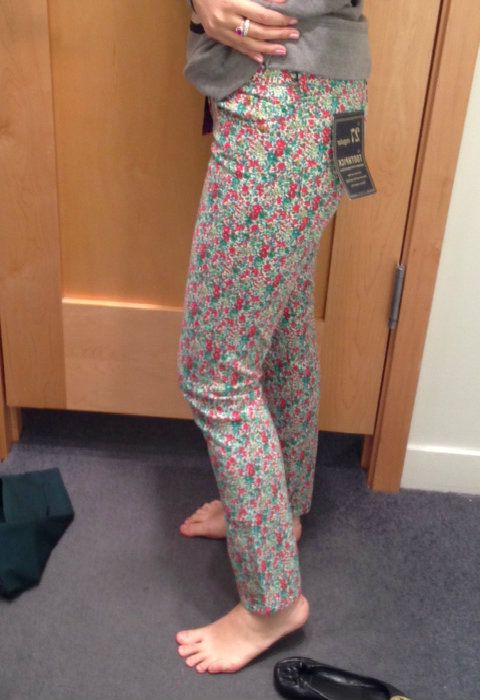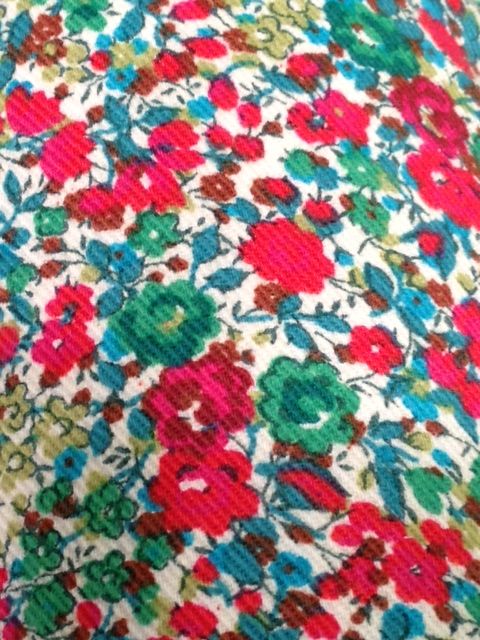 I have been eyeing these jeans for a bit now. I was excited about the printed look and how the pair might be similar in material to polka dot and graphic print denim, both of which have a lovely firm fabric that is oh so flattering. Unfortunately the material of these is similar to the soft garment dyed denim twill. I know it looks pretty good in pictures, but it wasn't as well fitting and slimming in real life. Must be the pose. It runs a size smaller too in my opinion. I am wearing a 27 and am normally a 26. The print is pretty though. I like how the flowers are small and not overbearing.
J Crew Scattered Sequin Sweater (here)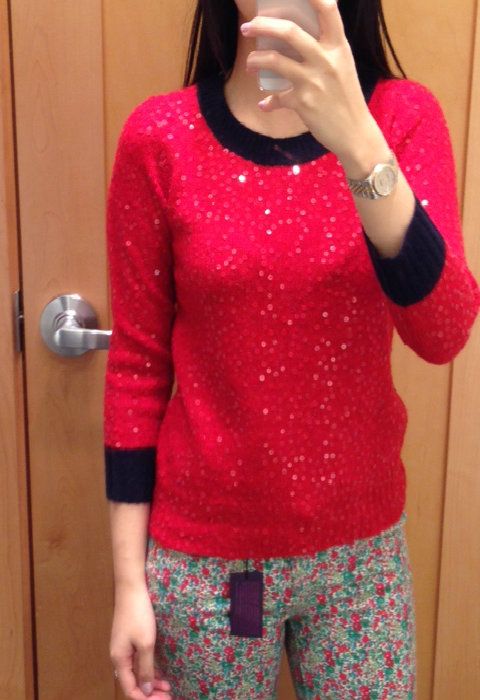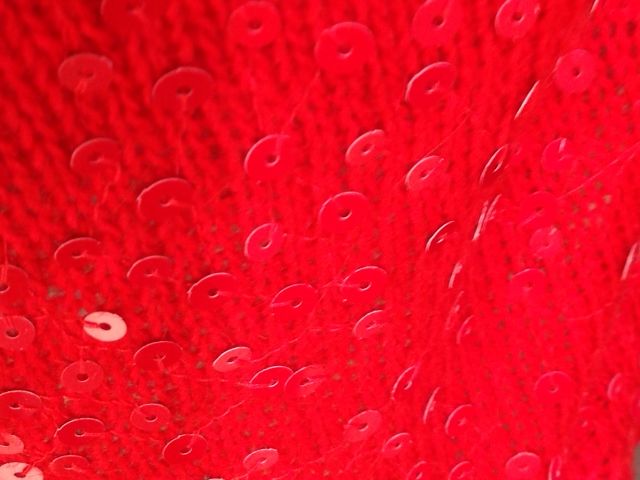 A cute festive sweater that is perfect for the holidays. I don't know if I would wear it outside of Christmas season time though. It is a little shorter than their normal sweaters. Not too itchy at all, but not as soft as the merino or cashmere sweaters. I am wearing a size XS.
J Crew Pear Sweater (here)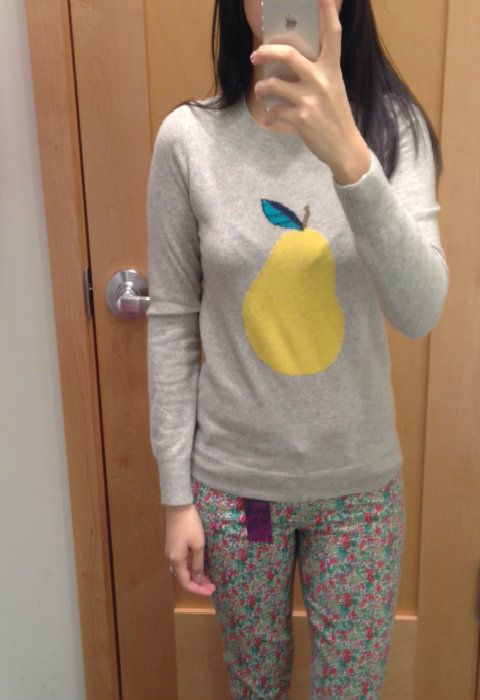 Here we have another novelty sweater that I have been a fan of lately. It is a pear, nothing more so I passed. It didn't have the adorable feel of the French Hen or Frenchie Dog sweaters. The length is nice and elongated. I am wearing a size XS
Again, Happy Holidays to you and your loved ones. Keep safe, warm and happy!
Love,
Kim