Monday, December 3, 2012 at 1:27PM
Hello!
Black Friday shopping was pretty eventful for me this year. Of course I had to hit one of my favorite stores: J. Crew. The sale was 25% off everything, which was a little disappointing since they had the same promo the week before and a better one the week after (30% off $250+)
But in the Black Friday spirit, I was ready to shop. I went to a the J. Crew store in SF and Corte Madera, as well as the online store. Here's what I got with some reviews:
Toothpick Jean in Polka Dot: (here)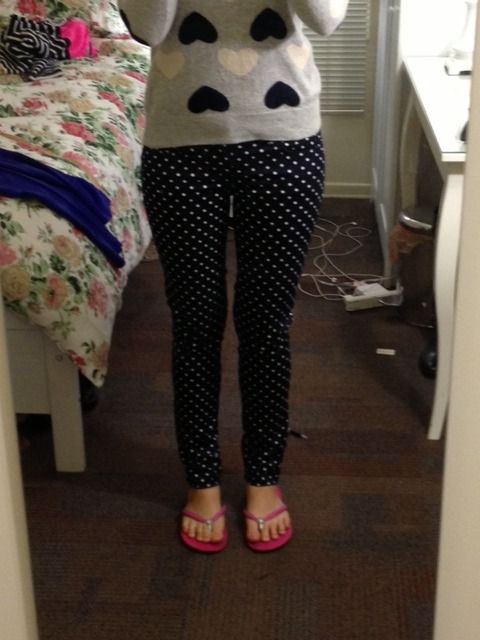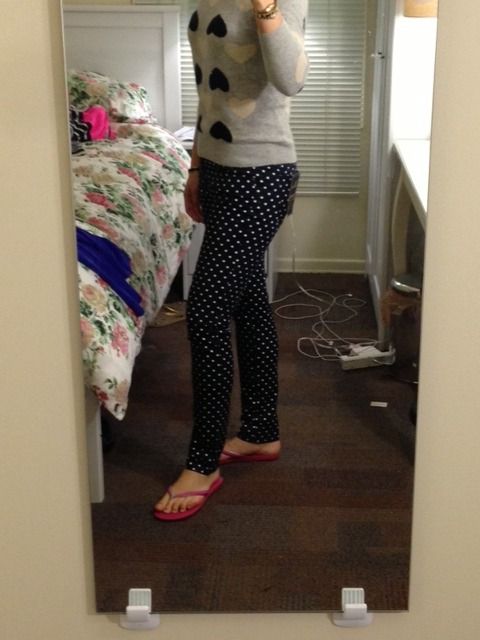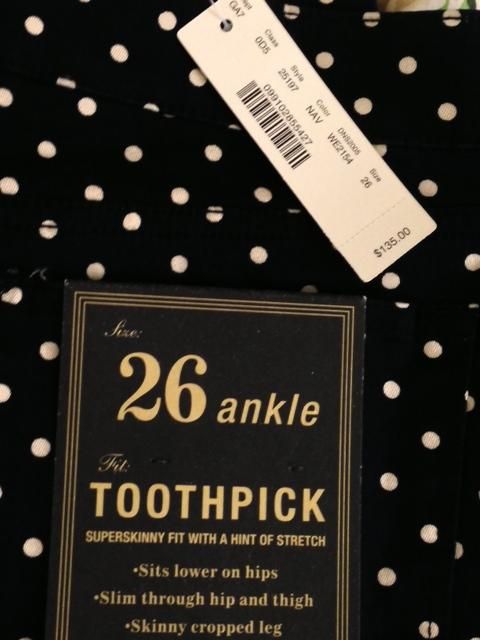 I got this pair in a size 26, my normal size. I LOOOVED this pair of jeans. The material is more rigid than the garment-dyed toothpicks and really sucks you in. The material is comfortable and conforms to your body shape. It is so much more flattering than the regular toothpicks and gives a slimming effect. The fabric is identical to the Toothpick in Geometric Print, which I reviewed a few weeks back. If J. Crew could switch their jeans to this material or make more I'd be a happy camper! They need to stop increasing the denim prices though haha!
Toothpick jean in garment dyed twill in Soft Peach (here):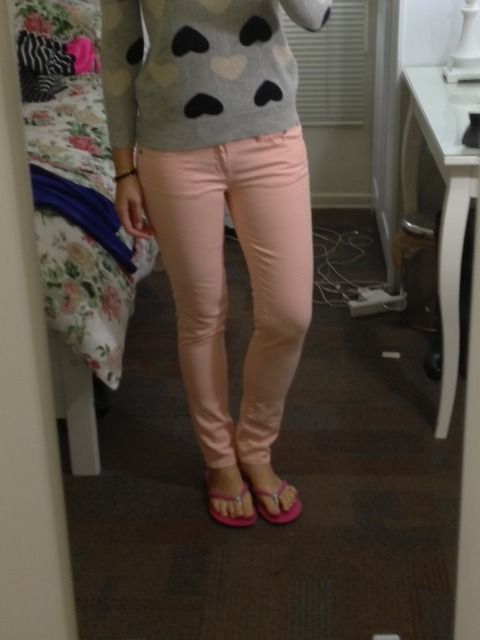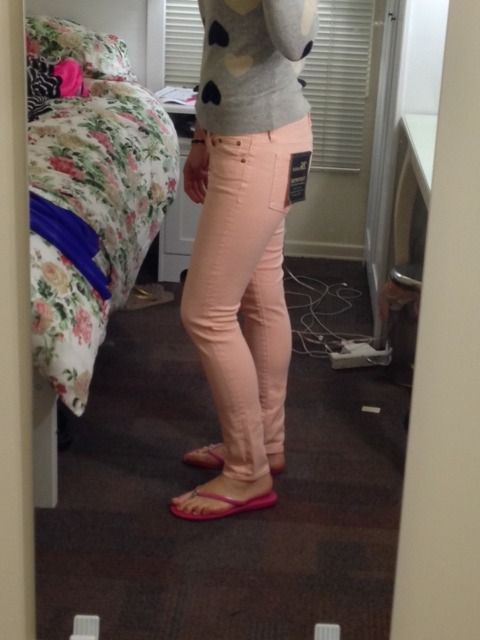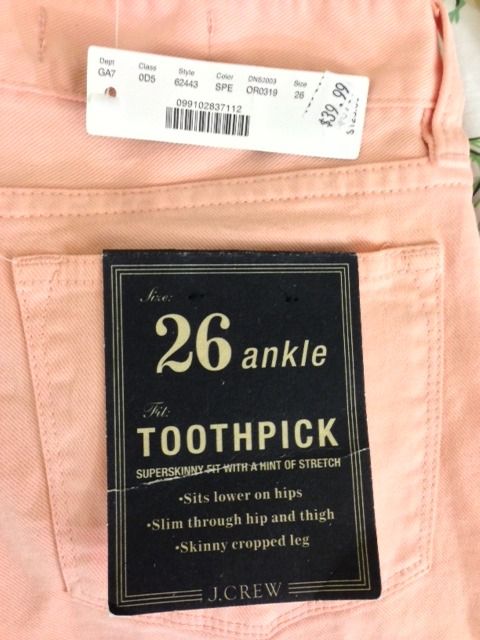 I got this pair mainly because it was so cheap, essentially $30 after the sale! The fit was tighter that normal as you can see the outline of the pockets, so I'll save these for my skinnier days. As always the material is very soft, but not too flattering on the thighs. The color is a little darker than depicted online, but is still a very pretty light pink. It goes pretty well with the J. Crew heart sweater.
Toothpick jean in garment dyed twill in Shallow Sea (here)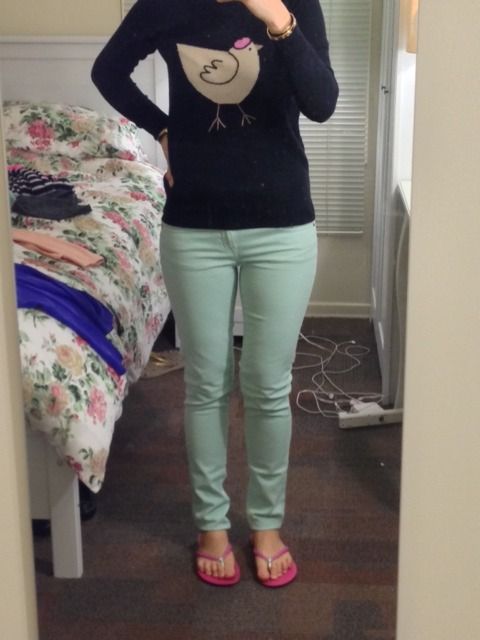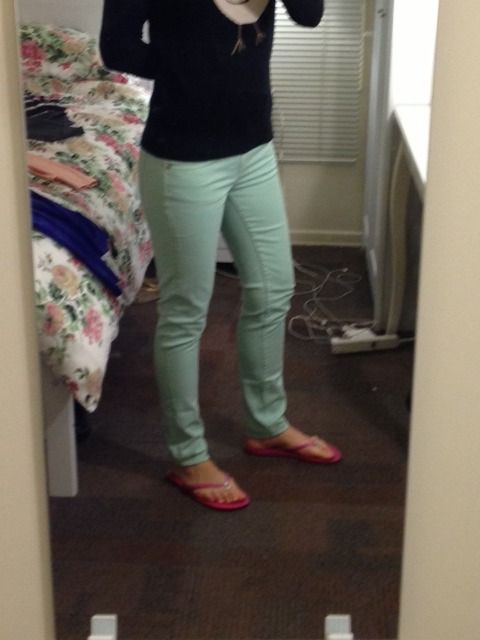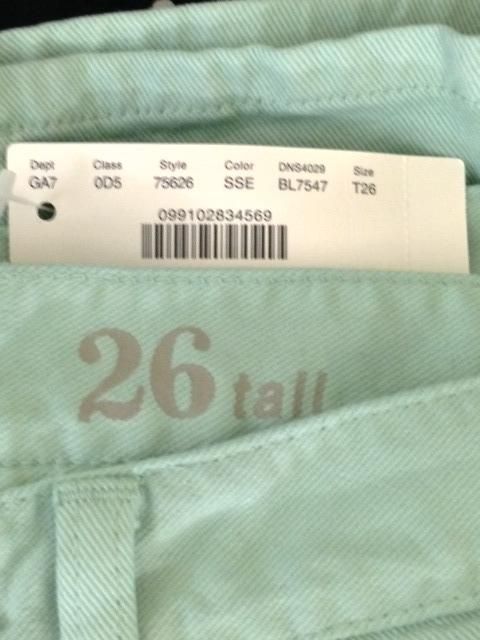 Another purchase because of the price. This pair was also on sale for $30 and green is my favorite color! How could I resist? I already have the toothpick jean with ankle-zip in a similar color, but I wanted a full length pair. I ordered this in a size 26T so it would go beyond the ankle. The fit is TTS, again not as flattering as the polka dot pair on the thighs, but the color is pretty.
Downtown Field Jacket in Mossy Brown (here)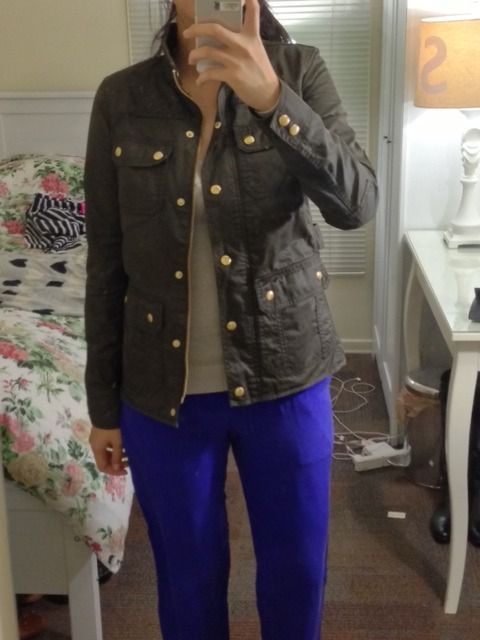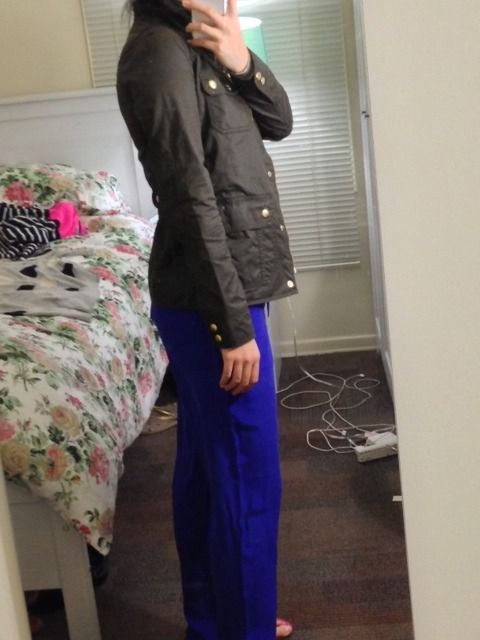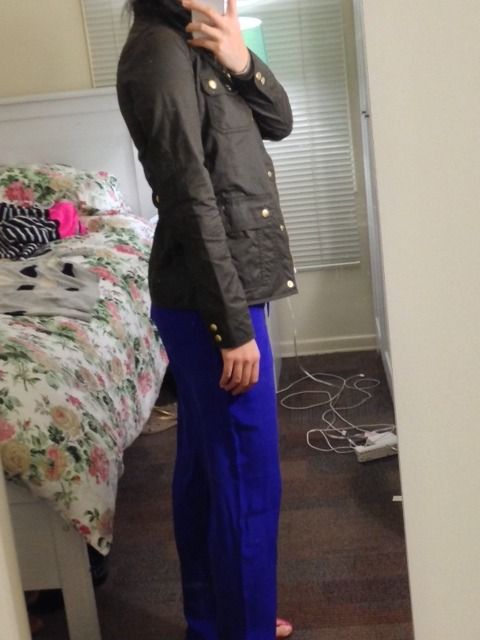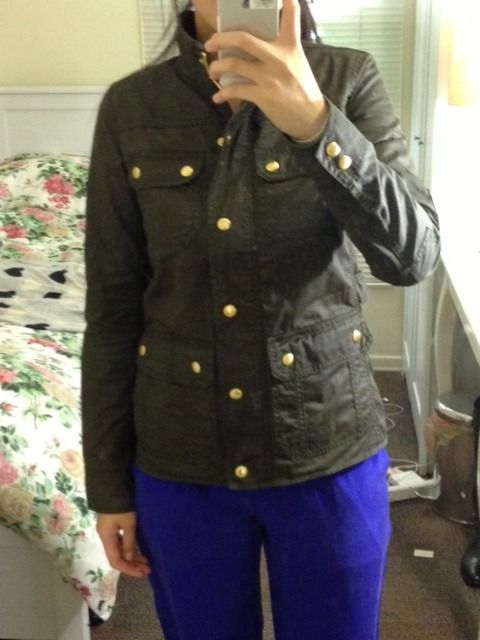 I have wanted this jacket for a while now as I needed something in between a hoodie and a blazer for casual nights. The color is an olive green and it fits nicely, with the shoulders not too broad. This is a size XXS and it runs TTS to a tad larger (I am 00 or 0 in jackets). The material is VERY stiff, so that might turn off some people. I can't even raise my arms fully straight over my head because of the constraint. I'm willing to forgive that though because it looks great on.
Heartbreaker Sweater in Dusk Navy (here)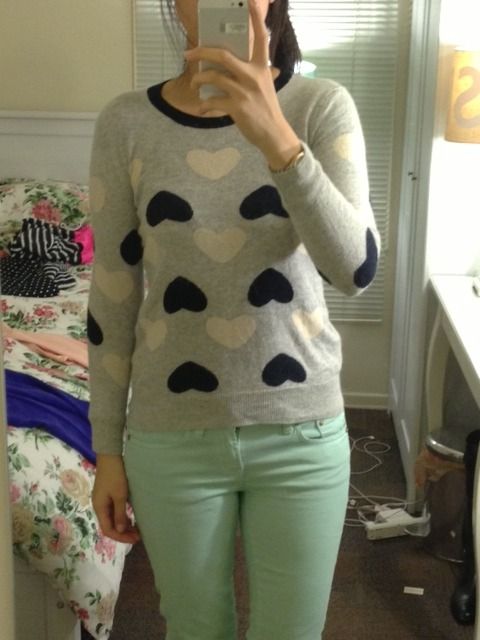 Is it me or are some J. Crew sweaters (especially the wool/angora blends) itchy? The sweater was cute, but a little short for my tastes. I like the neutral color palette, but yeah...itchy. I am wearing a size XS.
J Crew French Hen Sweater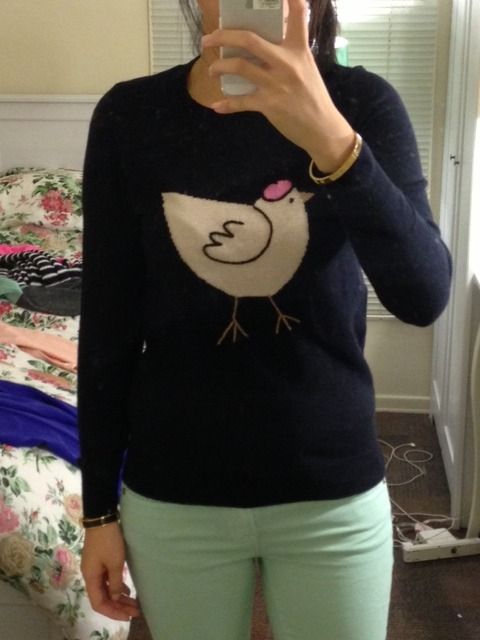 Haha! Isn't this the cutest print? A hen with a beret! This sweater is sold out online and I was lucky to find it at a store as they thought they no longer carried it. It is the itchy blend I mentioned above, but I willing to overlook that for that French hen! I took a size XS.
Dream Colorblock Sweater in Mint/Grey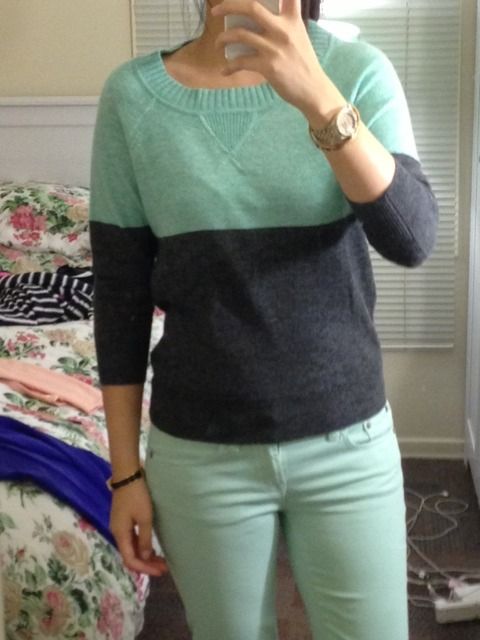 This sweater was SO much more comfortable. It is a wool/nylon/cashmere blend is a way softer and much less itchy than the wool/angora/viscose/nylon mix. The colorblock is flattering as the darker color whittles the waist. I am wearing a size XS.
Silk Crepe De Chine Pant (here)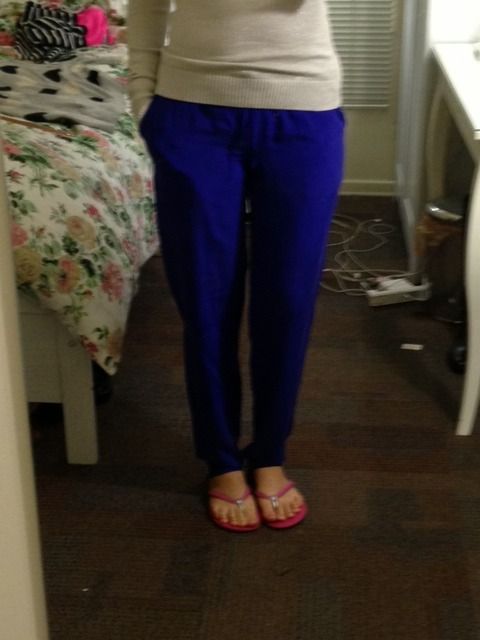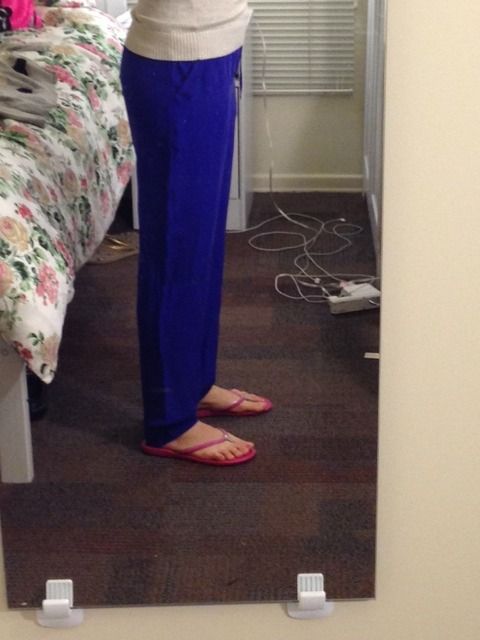 I really like lounging pants. plus points if they are attractive enough to wear out too! The bottom is tapered so the fit is slimmer and more flattering. It is machine wash too I think. Score! The cobalt blue is very saturated and the waistband is elastic with a drawstring. I am wearing a size XS.
Saturday Pant in Heather Coal (here)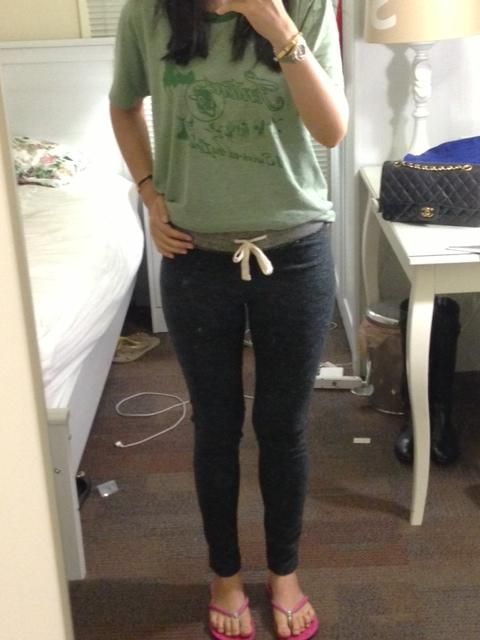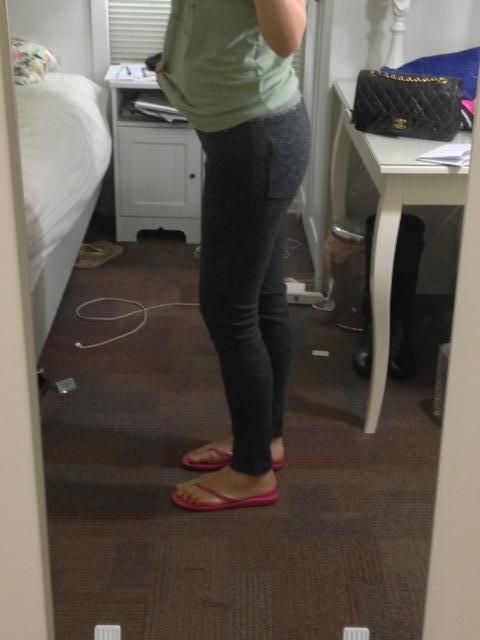 Another lounge pant from J. Crew. This time more fitted like tights. The pants are very wearable on their own, not under a tunic or a dress. The material is stretchy and thick, much like sweatpants and incredibly comfortable. Though I often find these types of pants unflattering, it actually fits great due to the thickness of the material that holds you in. I am wearing a size XS.
That's all for now! Hope you found my reviews helpful and if you have any questions, leave me a message!
Love,
Kim