Tuesday, February 21, 2012 at 1:06AM
Recently I have been drawn to the look of open back dresses. These frocks normally have a high and conservative front to balance out the scant fabric in the back. The dress allows an element of surprise. When looked at from the front, you seem covered and demure, however with a little twist, a taste of mischief is revealed. I also think that the back is a very sexy feature of a woman. It is usually cloaked, but when exposed the gentle curves of the back display the sensuality of a woman and not in a garrish sense.
One dress that I found especially beautiful is one made my ASOS. I am a fan of the UK retailer. They carry a massive number of pieces on their website (in the tens of thousands!) and cater to different fashion genres. The prices aren't too bad either, especially when on sale. Their site also carries their own brand, which I also find appealing. Anyway, this is the dress I loved and ordered:
ASOS Tulip Dress With Tie Back (purchase here on sale for only $41)
Stock Images: It comes in Navy, Coral and Khaki
I ordered the dress in Navy and here it is on a hanger:
Front:
Back:
Now here is the dress on me. Please excuse the slippers.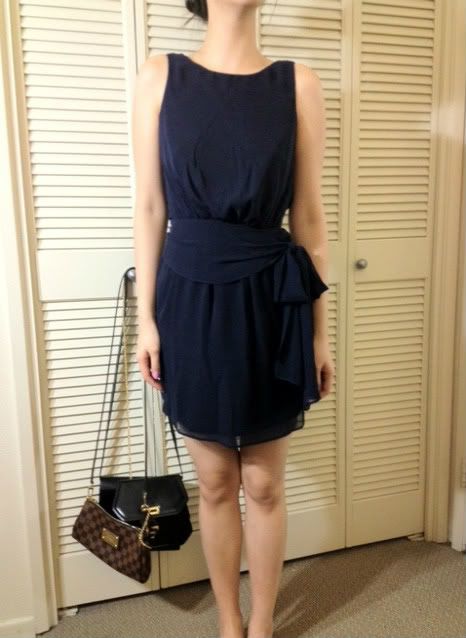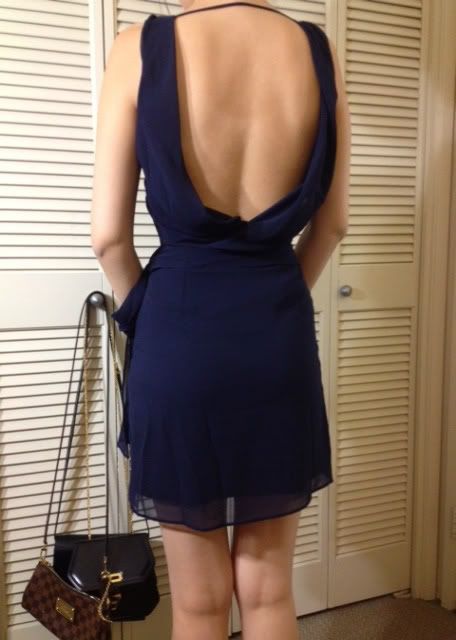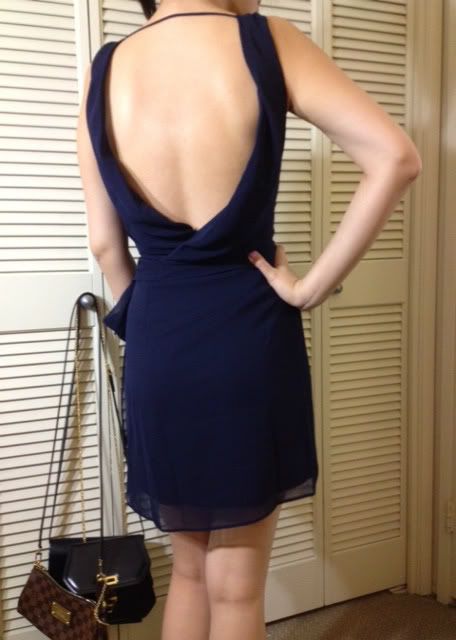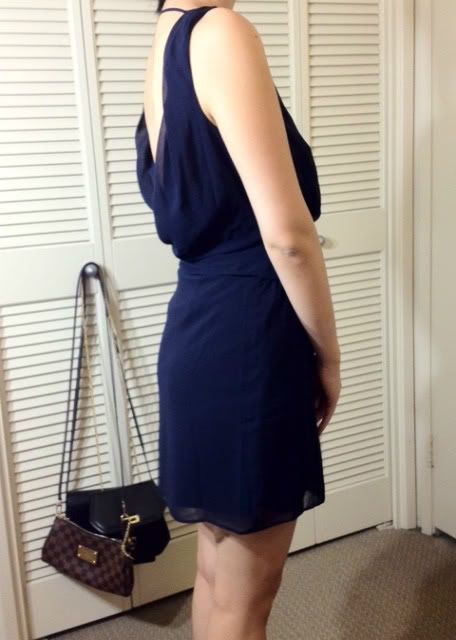 The dress fits great and is true to size. It slims and minimizes the top area and balances it with an a-line skirt. The back isbeautiful with the draping fabrics, which doesn't dip too low. The material is flowy, similar to chiffon and the dress is layed with an opaque lining under the sheer and flowy top fabric. The dress nips tightly on the waist, but I don't mind. But for a little extra room, you would want to size up. In the photo I am wearing a US size 2 or a UK size 6. I would accessorize this dress with gold jewelry (I think navy and gold go well together) and either pink or gold heels.
ASOS offers free shipping, but it takes an agonizing 2 full weeks to arrive. I have tried many of their UK brands and I am particularly fond of A|Wear, ASOS and Warehouse. I am not too fond of Lipsy as their outfits fit REALLY snug on the butt area and kinda poof out in the front, seeming phallic.
Hope this was informative! I have a few more dresses coming soon so I'll do some updates and reviews on those! (Come on ASOS shipping! Hurry!)
Love, Kim