Saturday, June 23, 2012 at 5:11PM
For a lunch out with a friend, I wanted to match the sunny LA weather with an equally cheery outfit. Though sunny, it was a tad cold outside (68 degrees? I know I am spoiled by this weather) so I decided to go with a sweater. Since there was a lot of color and texture going on with my outfit I kept the shoes and bag neutral. Here is my outfit of the day: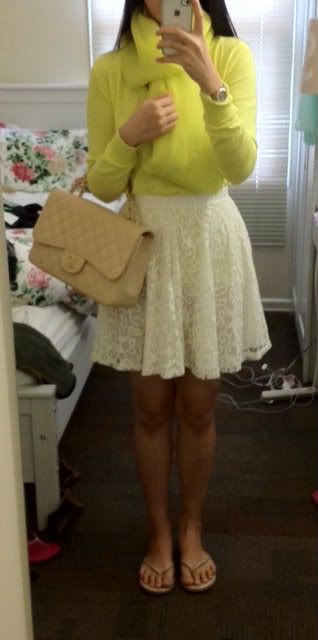 Top: J Crew Factory V Neck Sweater
Bottom: H&M Lace Skirt
Scarf: H&M Neon Scarf
Shoes: Nine West Hula Sandal in Tortora (Beige)
Bag: Chanel Jumbo in Beige Claire
Thanks for reading!
Love,
Kim
Kim
|
4 Comments
|
tagged
Chanel,
H&M,
J Crew,
Nine West
in
Outfit of the Day