Friday, June 29, 2012 at 11:35AM
I am sure you know about Zara's semi-annual sale where items are marked down $9 - $40. I would say most items are between a 10% and 30% off and did not see any for 50%. The sale is currently ongoing online and in store with both locations having pretty much the same discounts. The return policy is great and is the same as regular priced items. The only downside is that things are going pretty fast and many items I liked were out in my sizes both online and in store. Regardless, I was able to nab some items I liked when I visited the 3rd St. Promenade branch in Santa Monica. Here's what I got (and didn't get).
Zara TRF Jeweled Neckline Lace Pencil Dress (here) $59.90
This dress looked great on the rack and I have been having a lace dress moment recently. This was part of the new arrivals section of TRF. The bodycon dresses in the TRF section usually run VERY small for me. I am normally an XS or below in the regular ZARA sizing, but had to size up to a medium in this dress to accomodate my hips. I guess it doesn'y look too bad in the picture but the fit was awful. It bunched up on the sides of my hips and was loose in the lower waist but tight on the top and bottom. Also the material is very thin and looked a little cheap to be honest. Loved the concept, if they made this in their regular ZARA line with thicker material and better tailoring, I would have jumped for it.
Zara TRF Dress with Lace Details (here in white) $39.99 from $59.90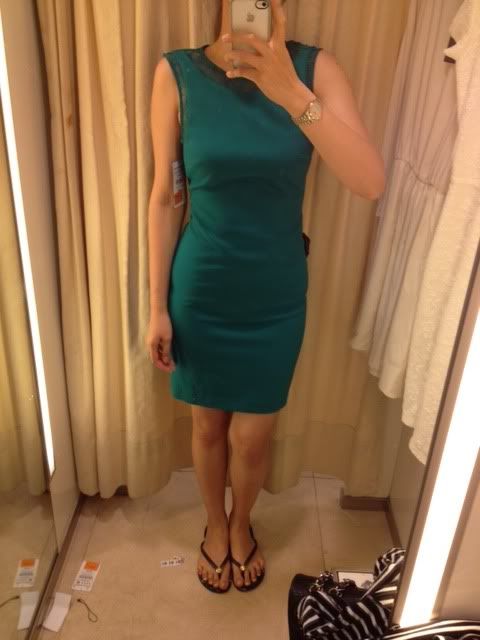 Another bodycon dress with lace detailing on the top and extending down the sides (can't really be seen in this view). Again I sized up to a Medium, and it was a tad snug on the hips. I should have worn better underwear to avoid the panty lines haha! I liked the fit of this one better than the dress above. The fabric was thicker and less stretchy and it hugged my body better. It was a little tight on the hips and looser on the waist, but I liked the design and the dress was in my favorite color, Green! Purchased. I wish I were able to get the white version as well, but all the zippers were broken and there were tons of stains on the ones on the rack. Pet peeve, why do people try to force the zipper up, when it causes the ZIPPER TO TEAR FROM THE DRESS!!! No one can ever purchase that dress now! :(
Zara TRF Pleated Dress (here) $25.99 from $39.90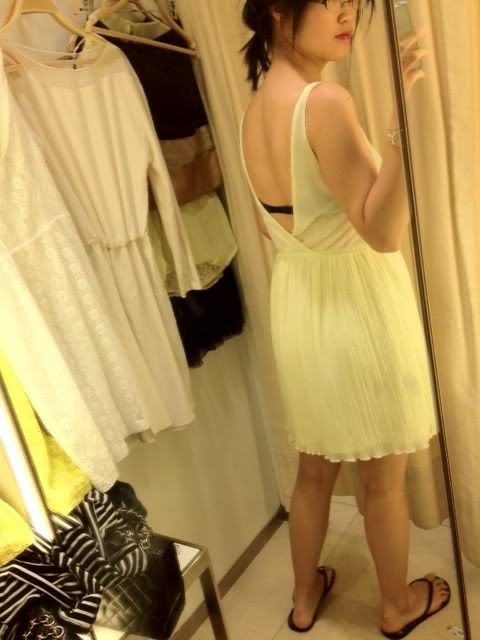 I saw this dress online on the midnight of the sale, but all the Smalls were already sold out! The material is a very light polyester chiffon and I love the geometric/triangular cut of the top with the pleated skirt. The low back top was also a plus! I tried on a Small in the store and the dress was a little loose in the waist area (note the tiny sag) but nothing that a cute belt or ribbon couldn't fix. I've been wearing a lot of lemons and yellows recently for the summer and nothing is changing! Purchased.
Zara Guipure Lace Dress (here) $39.99 from $59.90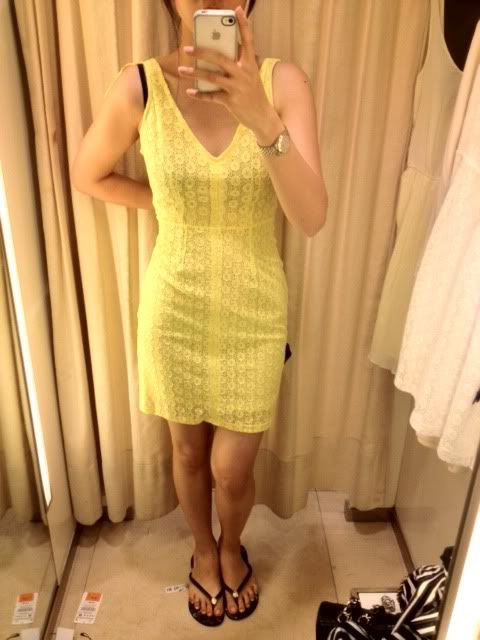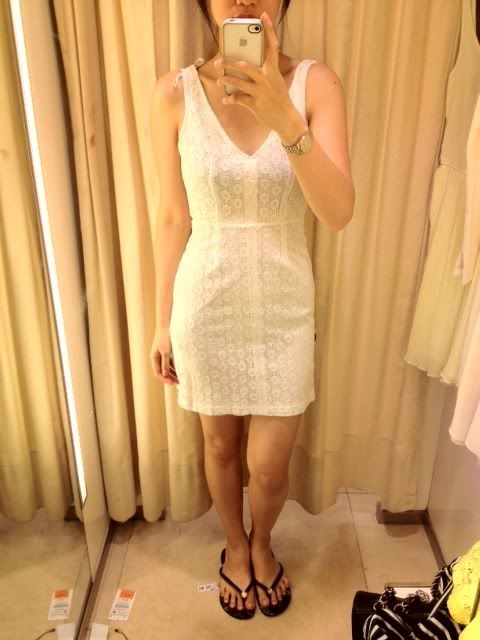 I would not have thought of purchasing this dress from seeing it on the model online. The draping made the model look kind of shapless, straight up and down, probably because the dress was to big on her. But when I tried it on, I loved how the cut fit my body! It was cinched on the waist and skimmed, not smooshed, my hips. And teh back is quite sexy too with a low cut V. I loved the dress so much I got it in both colors! I feel that this dress is appropriate for dinners, shopping, general hangouts and even the beach! When I find a garment that fits well without alterations, I pounce and often get all the colors! Purchased!
Zara Dress with Transparent Sleeves (not sold online) $49.99 from $69.90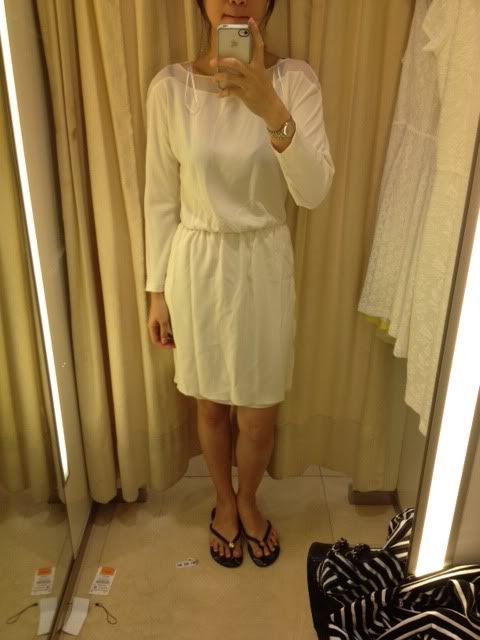 I really like the classy look of mesh/transluscent sleeves on a dress. It adds an air of mystery, by showing some skin, but just a taste. This dress had mesh shoulders and looked nice on the hanger, but it fit poorly on me. It was too large everywhere and just looked plain baggy. i liked the length though! This was a size XS. Skipped.
Zara Combined Panelled Skirt (here) $35.99 from $49.90

I was thinking that this skirt would look great with a slinky black top with 3/4 sleeves. This skirt was a size Small and was too big on me. They do have the XS online so I am thinking of getting that. It looks great on the model!
Kim
|
3 Comments
|