Tuesday, June 5, 2012 at 1:49AM
H&M is my go-to store for trying new trends that might come and go quickly. The quality may leave much to be desired but the designs are usually very modern and fashion forward. This is a review from the Century City H&M in LA and the massive one in SF.
Surprisingly I cannot get enough of H&M twill pants. They are similar to denim, but the fabric seems to be more tightly spun much like J. Crew's colored skinnies. The rise of the H&M pants is slightly higher than other brands, a feature that I love. They tend to run quite small though. I usually wear a size 6, but on occasion may fit into a size 4. Anyhoo, enough talking and let's get started:
Mint Green Shorts: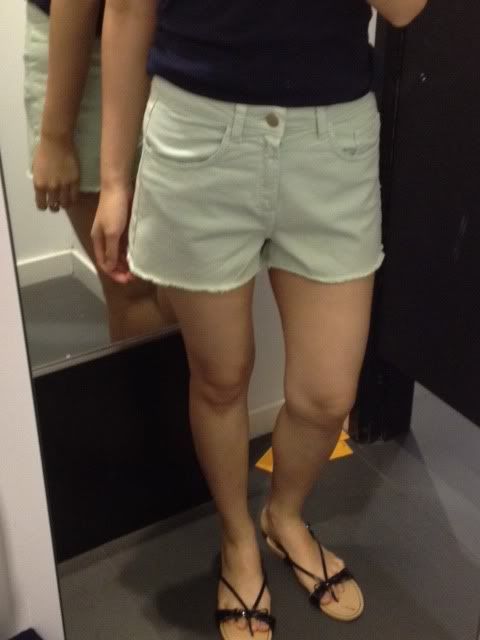 I am really into the mint color right now and the shade is really popular for the summer! These denim shorts were only available in a size 6 and were too loose on me. Also the bottom sort of flares out and I like a more thigh skimming fit. Did not purchase this one.
Blue Lace Stretch Skirt
This skirt was very pretty and quite flattering despite the thin stretchy material. However, it was too large and there were no smaller sizes. I think that this was a 6. Did not purchase.
Swiss Dot Dress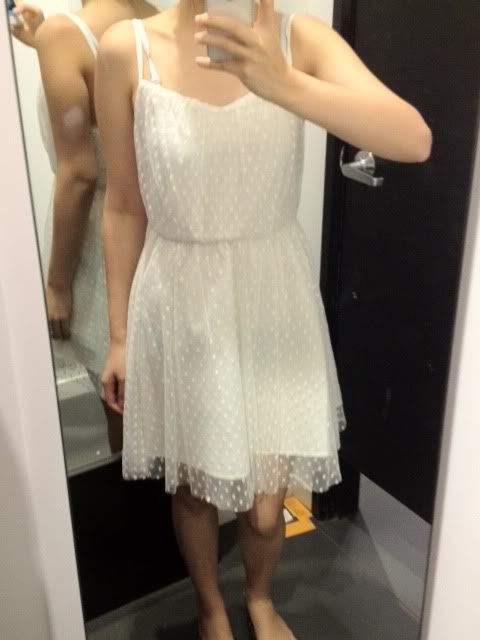 Man, oh man. I really wanted this dress to work out. I love the super cute swiss dot mesh overlay on the dress. The cut was great as it was a fit and flare dress. To my ultimate chagrin, this dress was the smallest one they had left in a size 4. I envy the lucky lady who was able to snag the smaller size. Did not purchase. :(
Pink Top + Black Pants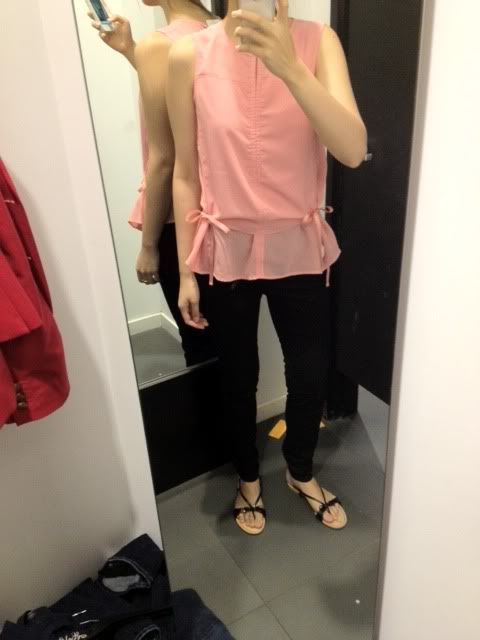 I'm not really sure how I should have tied the ribbons. They were initially just strands hanging on each side from the front and back so I just tied them together. It came out to a weird effect. Did not purchase the top, but loved the pants and did buy those.
Floral Skirt + Sleeveless Top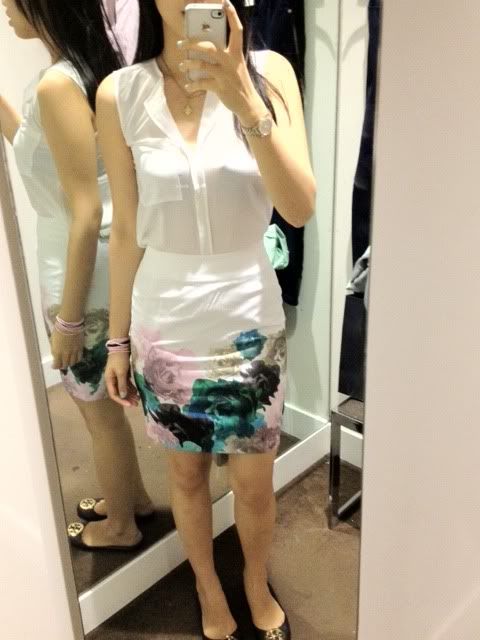 I was eyeing this skirt in the online catalog for a while now. I loved the fit and the design of the skirt. I am wearing a size 4 in this picture and as someone who is proportionally more hippy, this skirt fit quite well and wasn't too tight in the butt area. Purchased! (Finally!)
Lace Flippy Skirt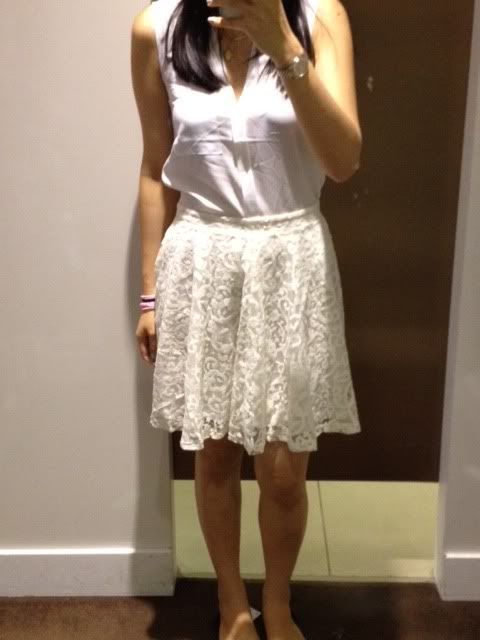 Again I wanted this skirt to work out so much. I love the A-line, skater shape of the skirt and the length was appropriate. Unfortunately, XS was not available so I am trying out small in the image. The skirt sat lower on the hips and meh, couldn't make it work.
I held back the extra fabric to see what it would look like and I was impressed. I prefer skirts that nip at the waist and flare at the hips. However, to pay $20+ for alterations for a $20 skirt is definitely not worth it. Skipped, sadly.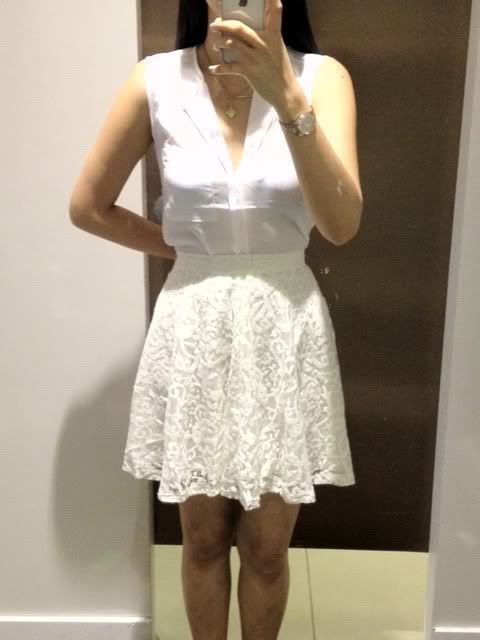 White Slacks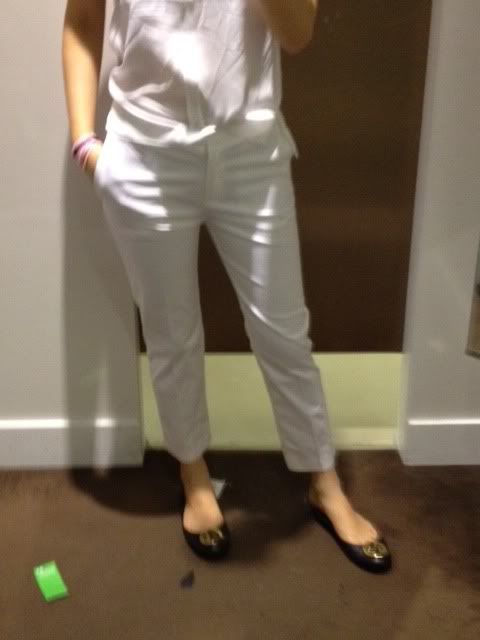 This is similar to the J. Crew Cafe Capri, but is a tad wider towards the bottom cuff. It was cute and part of the conscious collection, but I passed. This pair is a size 4. I find their slacks to run 1 size smaller than the jeans/pants.
Lilac Denim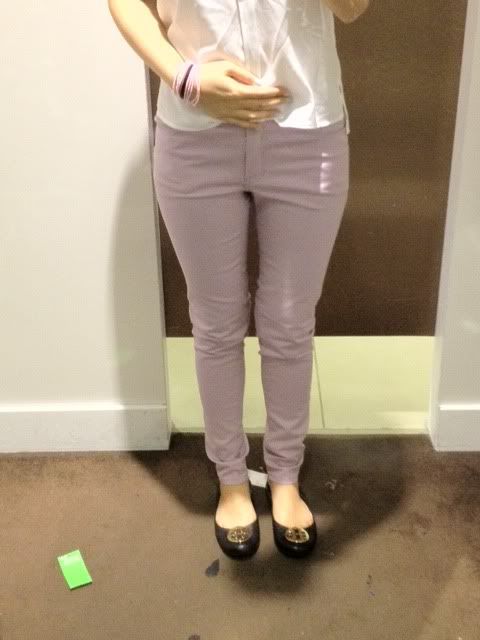 This came in a variety of pretty pastel colors. I grabbed the size 6 but it was a tad ill-fitting around the crotch and knee area due to excessive bunching. Was too lazy to grab a smaller size so skipped on this one.
Pants in Navy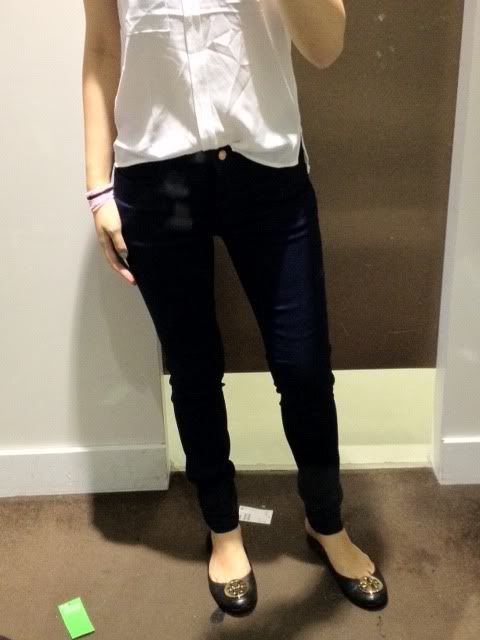 This is similar to the black pair pictured above (with the pink tank) in a size 6. I think I have every color in this style (2 in black). I purchased this one because you cannot have too many pairs of flattering dark pants!
Thanks for reading and I hope this was helpful! If you have any questions, please ask!
Love,
Kim
Kim
|
2 Comments
|
tagged
Dressing Room Reviews,
H&M
in
Reviews,
Shopping