Thursday, January 12, 2012 at 11:19PM
Phase 1: I used to dump all my makeup in the drawer and spend 15 minutes each morning trying to find my eyeliner.
Phase 2: Then I bought little drawer trays to sort of organize my make up drawer. After a few weeks of grabbing stuff and throwing them back. I was back to Phase 1.
Phase 3: I decked my makeup counter with clear glasses to put my brushes and lipglosses in. Sure, they looked pretty sitting on the countertop, but I soon had waaay to many glasses (I love lipsticks and lipgloss) and I was spending more time sweeping shards of glass off the floor than I wanted to. Yes, I am quite klutzy.
Phase 4: I have discovered the Holy Grail of makeup organizers. It wasn't designed to hold makeup, acutally it is place to put your blow dryer, but I had different things in mind. Oh and by the way, it's made of plastic. Good bye glass shards!
Here's how it looks: (Buy it at Target)
My plans were to put my brushes in the cylindrical compartment, lipsticks in the left smaller compartment and eyeshadows in the larger space. I bought two and in the second, I would put lipgloss tubes in place of the brushes.
Here are my results: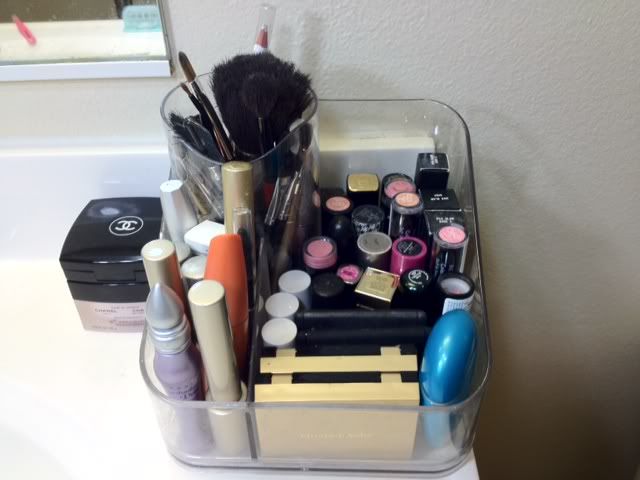 I put the brushes in the cylindrical space, my lipsticks in the large compartment (forgot I had so many lipsticks!) and some of my mascara in the smaller compartment. I am kind of a mascara junkie too. My other one will hold my lipglosses, eyeshadows and concealers.
What do think of this makeup organizer?
Love,
Kim
Kim
|
3 Comments
|