Monday, May 28, 2012 at 11:39PM
I have been looking for a good pair of white jeans for who knows how long, maybe 2-3 years now? I am not kidding when I say that I have tried at least 20 brands both low and high end. I've tried 7FAM, Adriana Goldschmied, Joe's, Citizens, Gap, Old Navy, F21, H&M, True Religion, Hudson, Siwy, J Brand, Current/Elliot and the list goes on and on and on. I actually gave up late last year as it seemed that the universe was conspiring against the pairing of white jeans and myself. White jeans are more difficult since they highlight your legs rather than slim them. Almost every pair I tried on was unflattering on the thighs and made my legs look too short. Just thinking about it makes me frustrated.
BUT...finally my time came and while at J Crew checking out the sale section, I saw a whole wall of Toothpick Jeans in white. I'm not really sure why they had so many racks of it right in front, but it certainly got my attention. With a reliquishing sigh, I picked up a size 26 pair (my normal J Crew jean size) knowing I was just setting myself up for disappointment...until I tried them on.
J Crew Ankle Stretch Toothpick Jean in White Denim: Here is a stock image followed by the jeans on me: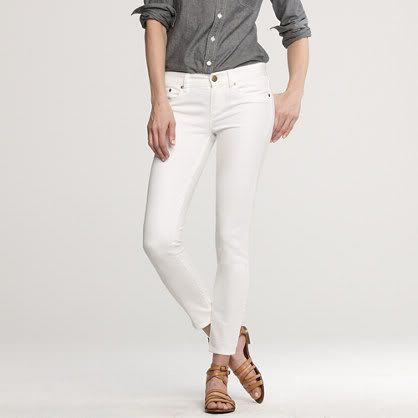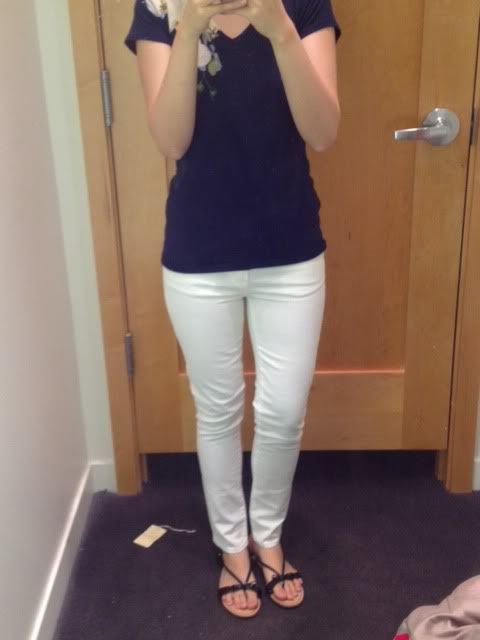 Not bad, not bad at all! I really liked the fit of the jeans! They were tight, but not suffocatingly so and looked great on the hips and thighs! The length was perfect on me as it hit right on the ankle! I was ECSTATIC! My search for the perfect white jean was OVER! Summer here I come! I loved it so much, I purchased 2 pairs, just in case something happens to one of them. Each pair was pricey at $125, but after 3 years of searching, it was well worth it.
If you are looking for well-fitting white jeans and have had good experiences with the Toothpick, try 'em on!
Thank you for reading!
Love,
Kim
Kim
|
8 Comments
|