Thursday, June 21, 2012 at 2:18PM
I went to the J Crew in Desert Hills, CA and of course had to hop through J. Crew! There was a small sale going with with tons of shorts and tank tops. Here's what I tried on:
J Crew Side Zip Shorts in Neon Pink:
I liked the fit of the shorts, but there was a huge stain on the side so skipped.
J Crew Side Zip Shorts in Black:
Though it is a tad short, I liked the fit. No pockets though, but still purchased. This and the pink pair above were on sale for around $15.
Lace Front Tank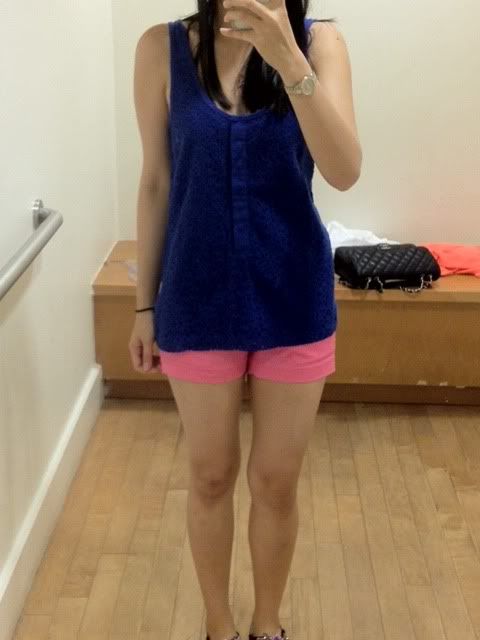 A little too roomy on my. This was an XS and I don't think it came in XXS.
J Crew. Petal Tank
Loved the fit and the length of this tank! The embellishment in front gave me a much needed oomph in the bust area. A plus! On sale for $12.
J Crew Brushed Dot Short in Heather Twilight
Again, loved these shorts. I really like how the front is pleated for a looser and easier fit! Even though the inseam is 3", it seems longer due to the more relaxed fit. Purchased for $50
J Crew 5" Oxford Chino Short in Poppy.
I really like this 5" length and well color. Even though it looks pink the in the picture as it does in real life, if you look VERY closely, the fabric is made of alternating red and white threads. Planning on wearing this while in the golf range. Purchased for $36.
Thanks for reading! How's your shopping going?
Best,
Kim
Kim
|
2 Comments
|
tagged
Dressing Room Reviews,
J Crew
in
Sale,
Shopping