Monday, April 16, 2012 at 3:32PM
After a long week wait, my J Crew shipment has arrived. Since they had a 30% off on final sale last week, I couldn't resist browsing the pages. There were quite a few cute pieces on sale. So without further ado, let's start! For reference I am 5'5".
Until April 20th, 2012: Use the code MUSTHAVE to get 30% off all final sale!
J Crew Sasha Maxi Dress in Skinny Stripe: (here)
Stock Photo: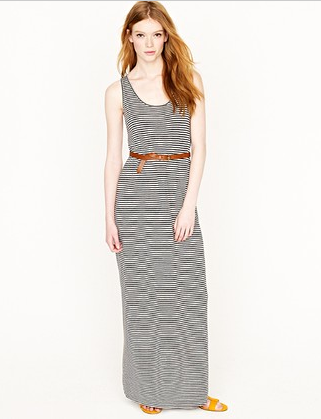 Hanging:
On me: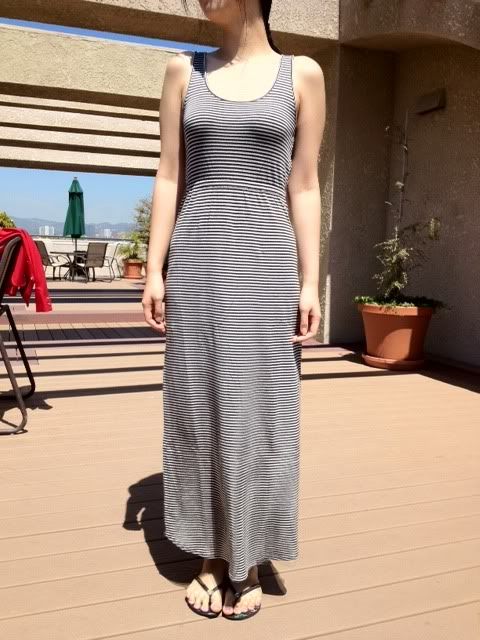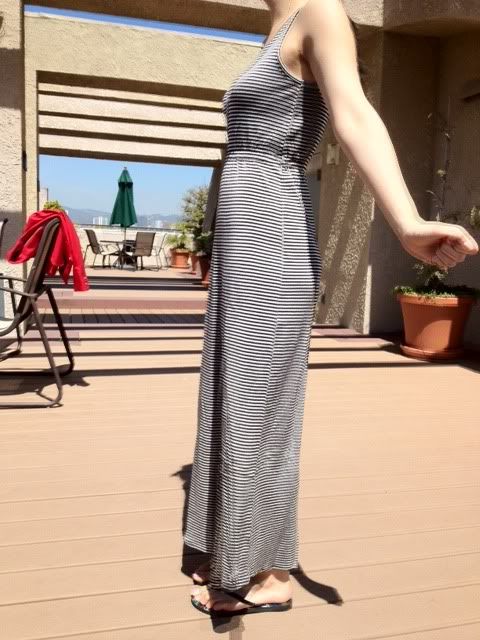 Label: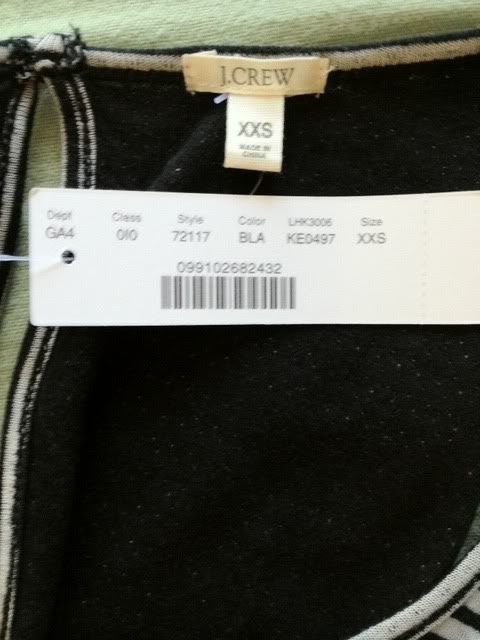 I am really into maxi dresses for the summer. The silhouette is very flattering and you can't get any more comfy than maxi dresses outside of pajamas! This dress has very narrow stripes that are easier to wear than wide stripes. I really love the style of the dress. It is fitted on top and cinches at the smallest part of my waist. Then follows a slight flare on the hips. Finally the skirt falls straight down, similar to a column fit. J Crew used the perfect amount of fabric to make the dress slim, but not clingy. The length works for me. I am 5'5" and it falls slightly above my ankle. I think it would also work for ladies 2" under and over my height. The back has a cute keyhole feature. It is still available for $69.99 - 30%!
J Crew Schoolboy Blazer in Wool Flannel, Marachino Cherry: (here)
Stock Photo: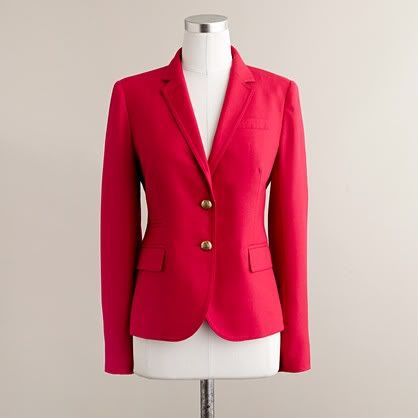 On me: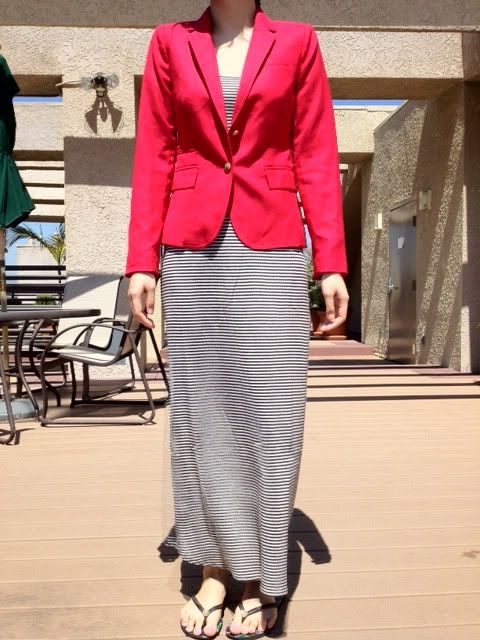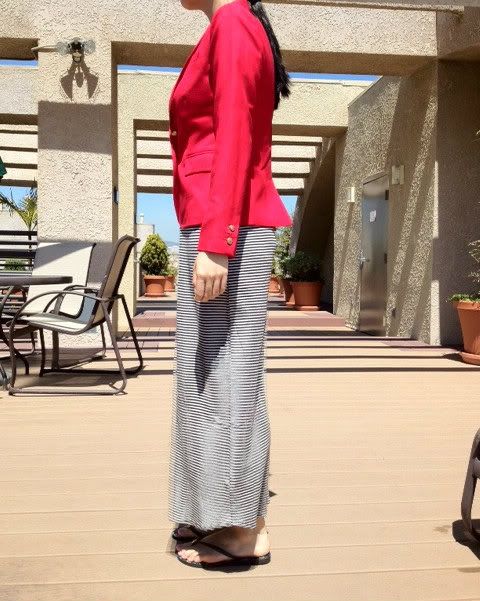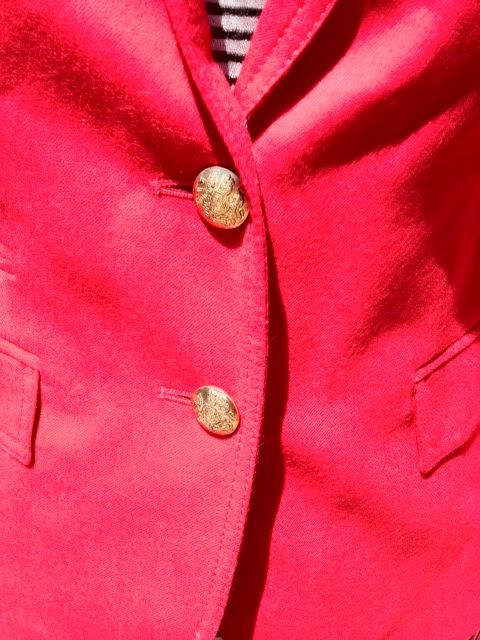 Details: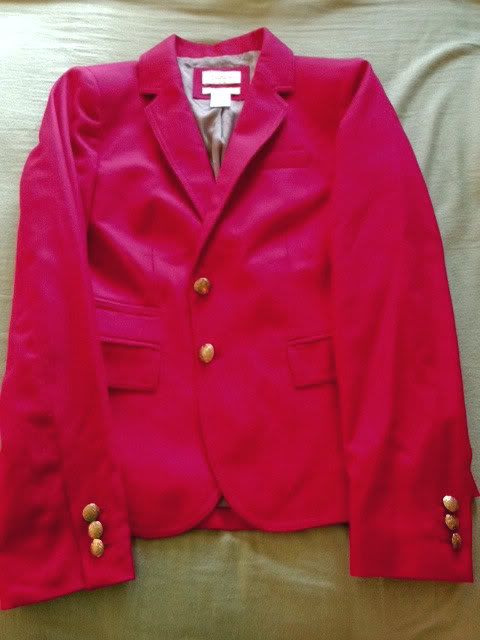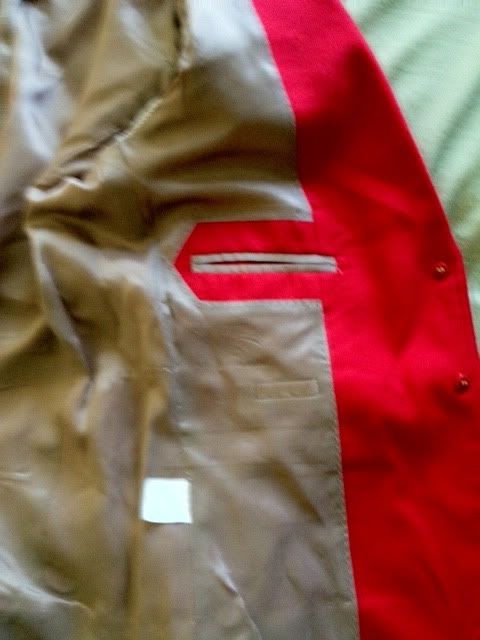 Label: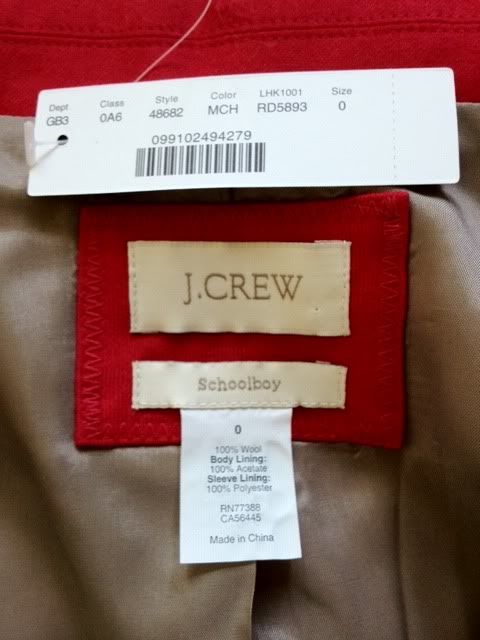 Important: The color of the jacket is more blue-toned and less tomato-y than the pictures suggest. It is very similar to the stock photo color.
Yet another Schoolboy to add to my collection. I rarely wear cardigans anymore as they have been replaced with blazers. I love the fit of the Schoolboy and this blazer fits me the same as the others (navy, linen). This is the brightest jacket I own (well, aside from the bright pink one that I never wear) and I was hesistant to buy it, but the price was just too good! $70 (after discount) for this gem! A red blazer is the new blue jeans for me, it matches almost anything! My FAVORITE detail of the blazer is the striped lining in the sleeves making the rolled-up loop much more attractive! The jacket is pretty lightweight, much more so than the Hacking jacket.
J Crew Natasha Top, Gallery Green (here)
Stock Photo: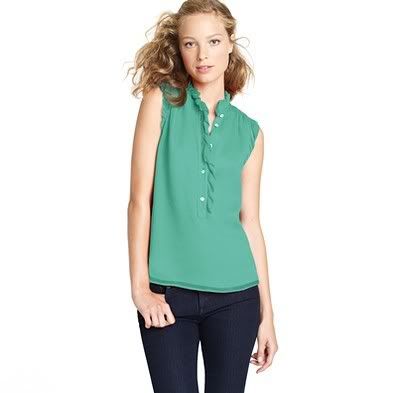 On Me: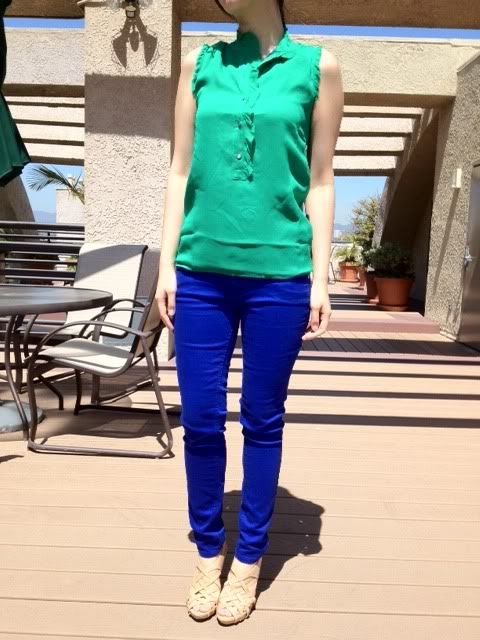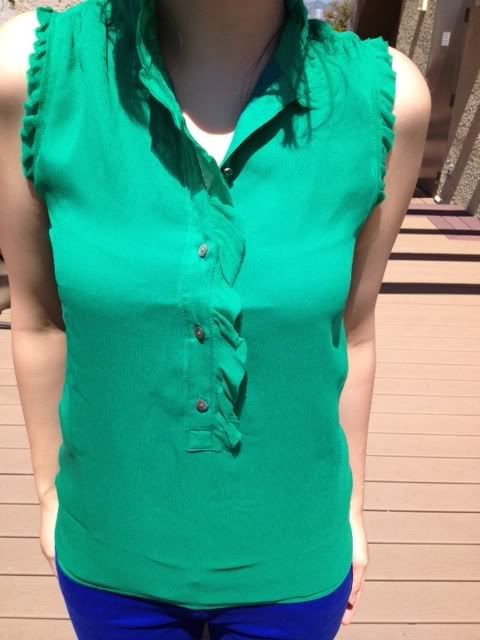 Details: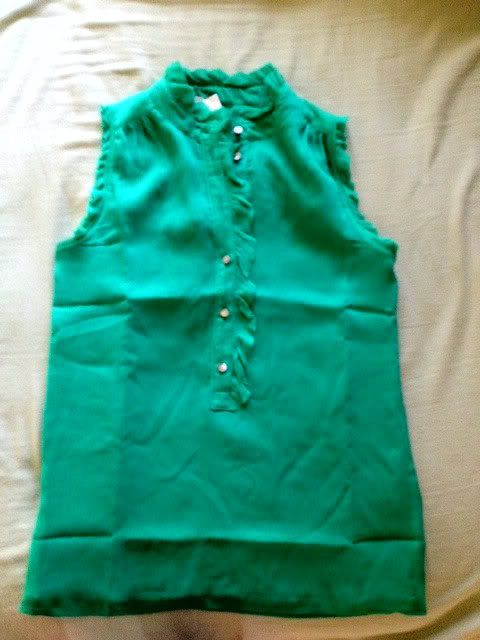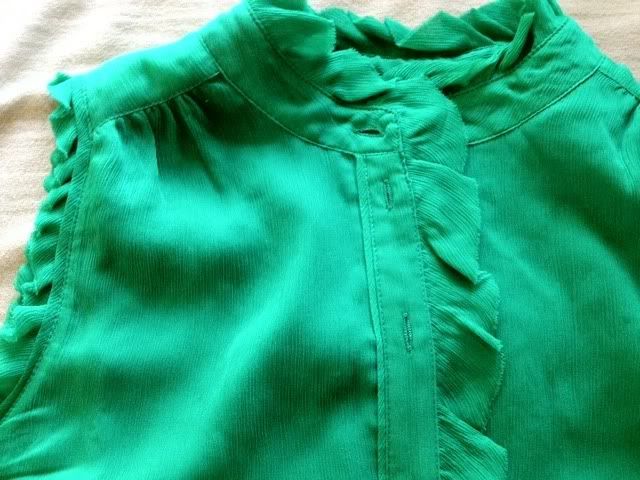 Label: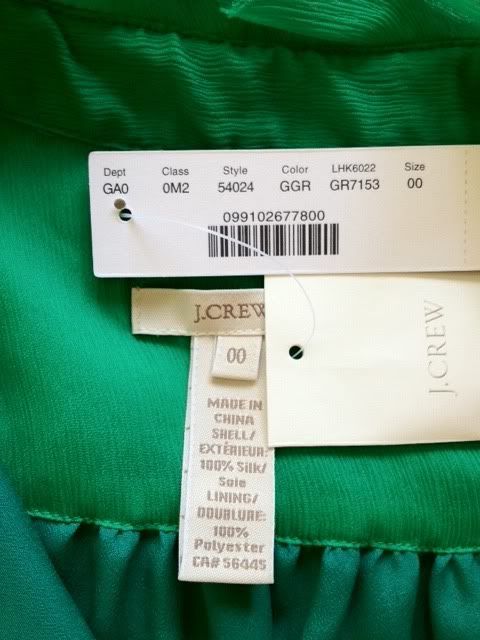 Important: Color is more vibrant and saturated than the stock photo and my photos suggest. it is closest in color to the hue depicted in the "Label" photo
I've wanted this top since it debuted in the "New Arrivals" section of J Crew. Summer's a-coming and sleeveless blouses are my new staple. This blouse fits perfectly and is quite slimming. Green is my favorite color so it couldn't get any better...or could it? $59.99-30%? Yes please! I'm planning on getting it in a slew of other colors. Once downside, it is dry clean only and I don't know if I have enough time to go to the dry cleaners 3-4 times a month. Hmm...risk it with a hand wash?
J Crew Vintage Cotton Long Sleeve V-Neck Tee in Stripe
Stock Photo: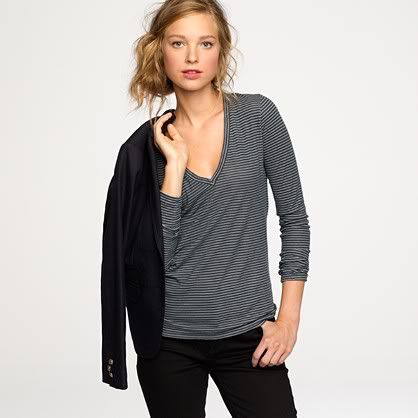 On Me:
Label: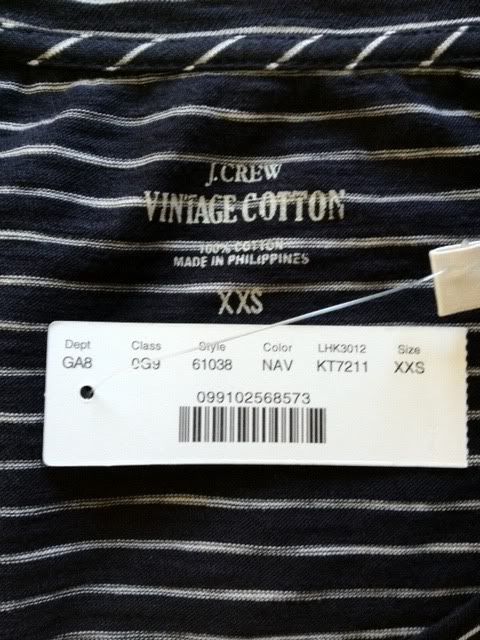 A little snug, especially on the shoulders, but I like the fit on the torso. Too late now, as the items are final sale. This is a very simple top, but it was on sale for $4.99 + 30%, I just had to pick it up for a few dollars.
Well, that concludes this picture heavy review. I hope you enjoyed and hope that this post was useful to you!
Love,
Kim
Kim
|
4 Comments
|