Monday, May 28, 2012 at 1:48AM
I stopped by my local J Crew today (Century City in LA) to see what they had in store. The sale section was pretty full. There were lots of No. 2 skirts, eyelet tops, dresses, toothpick denim (sizes 24, 29, 30, 31 and 32 only), shorts (00, 4 and up) and some skirts. This was the first time I saw a stocked sale section at this J Crew and I was loving it. Unfortunately the store did not match the extra 30% off offered online
Here's what I tried on with stock photos and me photos:
J Crew Blythe Blouse in Royal Blue: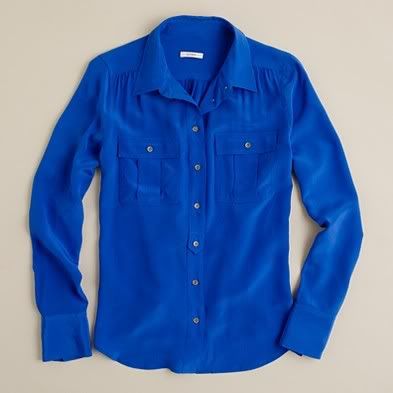 I am a sucker for J Crew blouses, especially those in silk. I love the relaxed look of them and the versatility. No to mention they feel super soft against the skin as well. I really liked the looser fit of this top, but I passed on this one, only because I wasn't a fan of the blue color. I like blues, but I am looking for something a little more bright or pastel. This was a size 00. They had sizes 0, 4, 10 and 12 if I recall correctly. It was on sale for $69.99.
J Crew Toothpick Jean in Garment-Dyed Twill in Neon Persimmon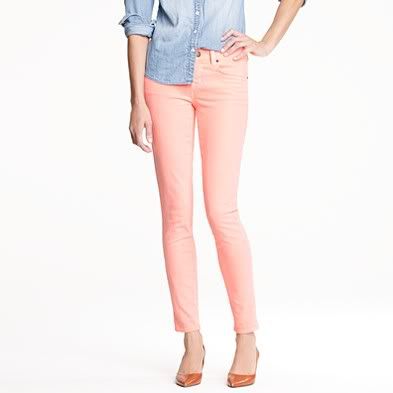 I have been lusting over these jeans since I tried them on a few months ago and when I finally decided to purchase, they no longer had my size in store and online. Imagine my euphoria when the SA informed me that they were on sale. But and a HUGE but, they were only available in sizes 24 and 30 and up. I am a 26 so those were no-gos for me. However, picking up the 24, it looked a tad bigger than normal so I decided to try it on. Just for kicks? With a bit, okay a lot of effort, I managed to get these babies up and button. Sure they give me a little muffin top, but who is gonna notice? The bright and cheery color will hopefully distract the onlookers! I plan to pair this with a more flowy top to hide the bulge.
I honestly think that this pair is mislabeled and is possibly a size 25. Doesn't matter, it's with me now. The pair was marked down from $125 to $89.99
J Crew Relaxed Chino (Scout?) in Neon Peach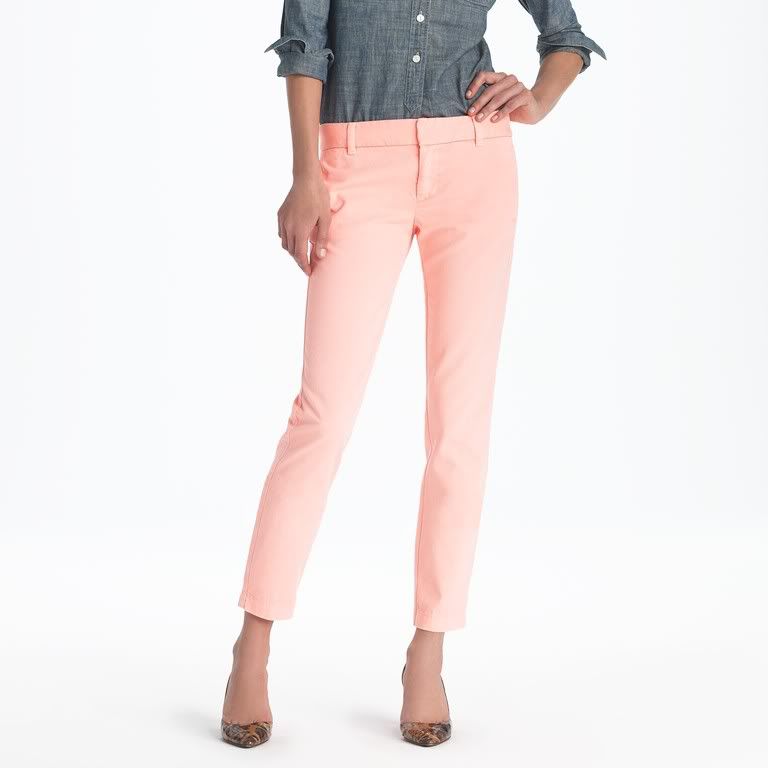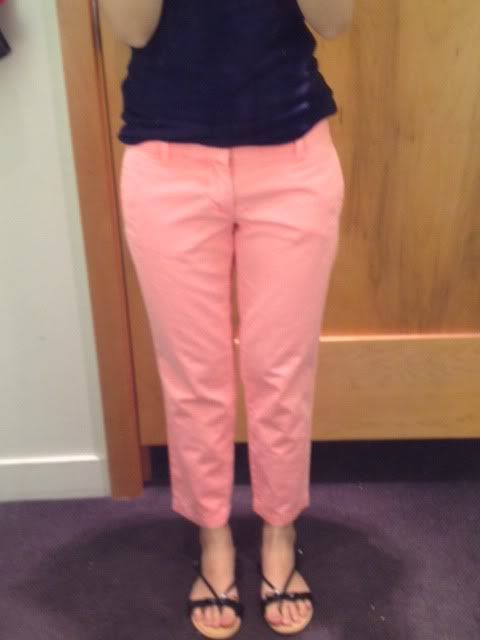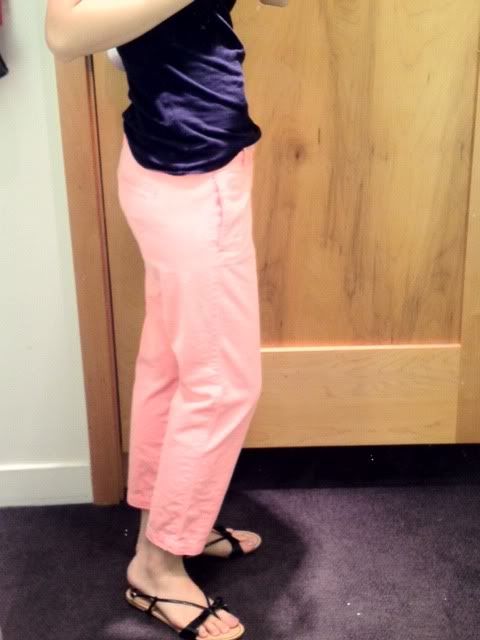 These pants look incredible on the model! On me? Not so much. The fit on the hip area is slightly dowdy and I like a tauter fit to my pants. I passed on this one. Color was beautiful though. It was on sale for $ 49.99.
J Crew Natasha Top in Polka Dot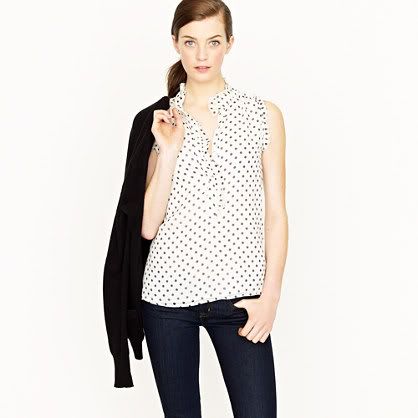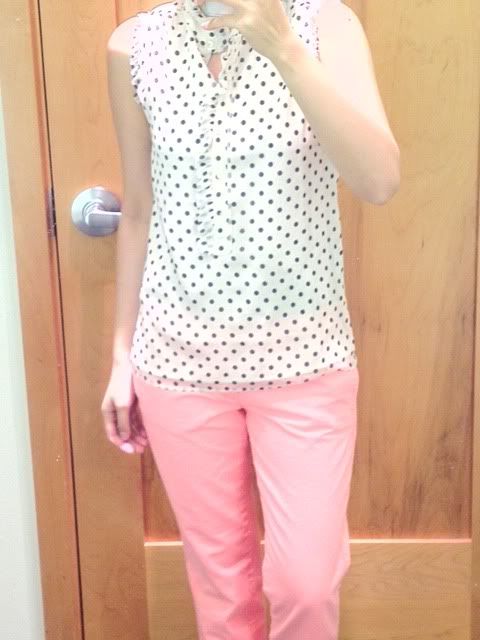 Yes, yet another Natasha top for me. It's my 4th one I think. The sleeveless style is perfect for the summer and this shirt can be tucked in or left out. It would look great with jeans, skirts and shorts. What more could I ask for? Oh, and there are small ruffles around the neck and the armholes. Very cute. The fit is slimmer than the Blythe blouse, for that I am thankful for. This was marked down to $69.99, still pricey, but worth it.
J Crew Scalloped Sateen Skirt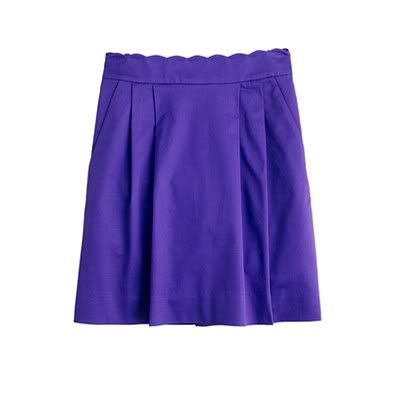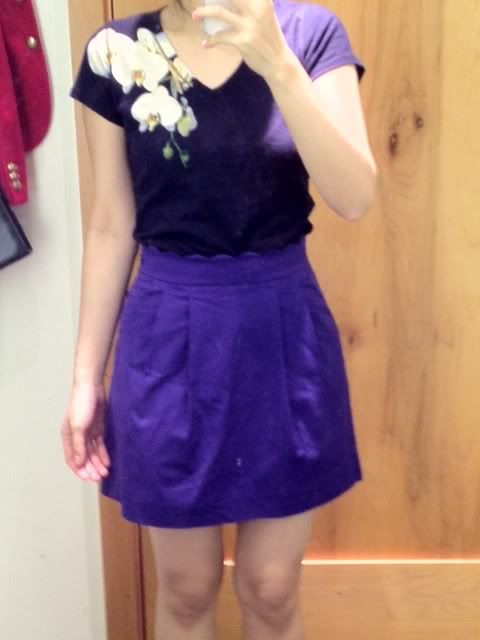 I usually love J Crew skirts, but this was an exception. I liked how this skirt nipped at the waist and a scallop detail is one of my absolute favorites, but the flare of the skirt poofed out and added bulk to my hips, not a place I want highlighted.
J Crew Ankle-Zip Toothpick Jean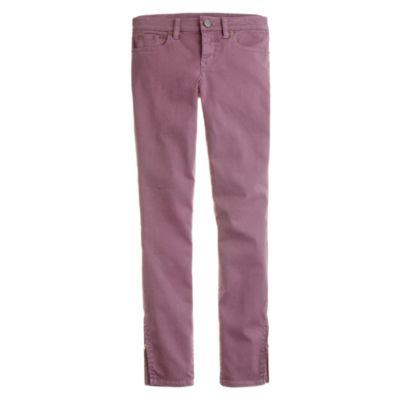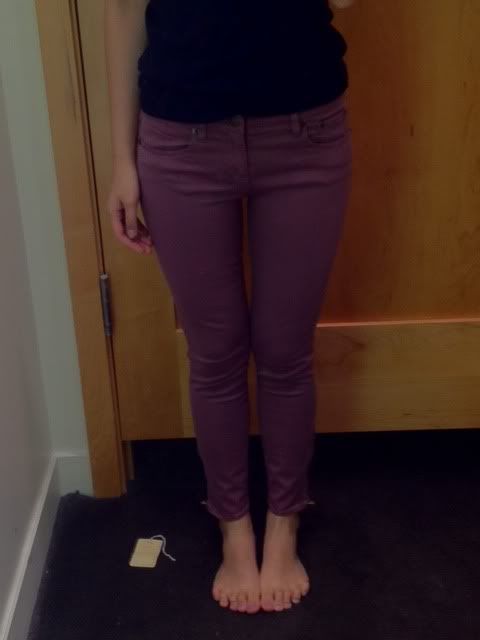 Finally I tried on these pair of skinnies. This style runs one size smaller than my regular toothpick size and is a lot stretchier. I liked the fit, but not the color. This purple pair would be great for the fall, but I am in a more spring/summer mood right now. This was available in 24, 27, 29, 31 and 32). It was marked down to $89.99 from $125. I passed on this one.
Overall a great day at the sale section in J Crew. I also checked out the new arrivals and purchased one amazing thing, which will be reviewed in another post.
Thanks for reading and if you have any questions, please ask!
Love,
Kim
Kim
|
8 Comments
|