Saturday, January 14, 2012 at 2:45AM
After the Charlotte Russe purchases, I have been absolutely obsessed with colored denim. I want one for every day of the week. My desire for these chromatic jeans brought me to the 3rd St. Promenade in Santa Monica, a great place to shop! I was met with much disappointment, but after the long journey...well, I don't want to give the ending away do I? I hope my dressing room reviews help you in determining the perfect fit for you! My requirement for denim is the slimming of the hips and thighs. This is a loooong post. Please bear with me.
First Stop: H&M
Bubblegum Pink Pants ($24.90): Eeewww. No. The pants were SO tight (this was a size 8. I am normally a 4) and made my hips and thighs look bigger than normal. Much like pink sausages. Worst jeans of the day! The fabric is too stretchy and does not hold anything in.
Fit: Size up 2 sizes. Rating: 1/5. Did not purchase.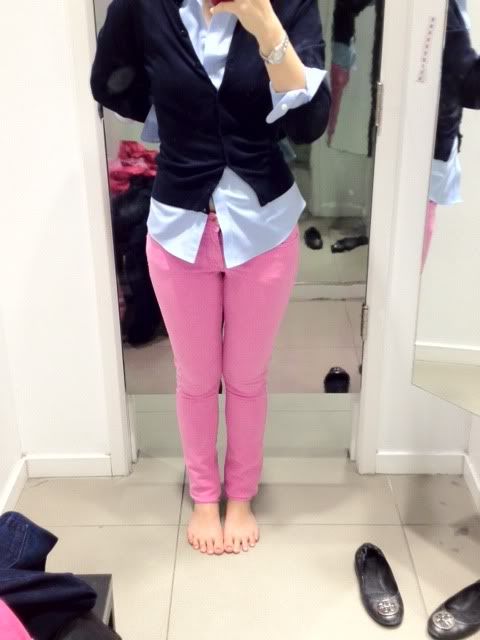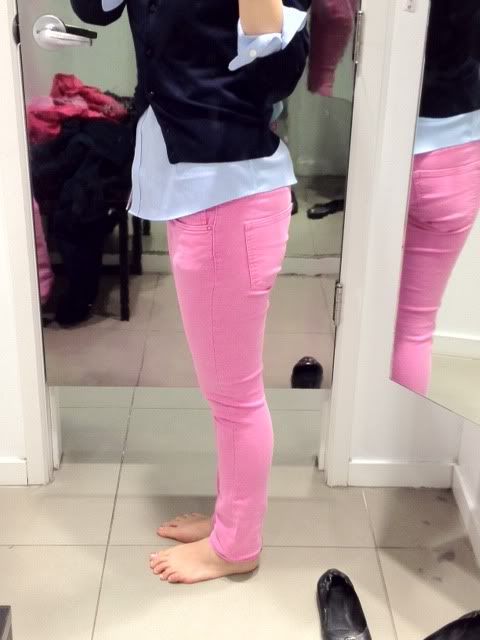 Pink Skinnies ($29.99): A little better. I liked the bright color, but it still made my hips look bigger. I have larger hips relative to my torso, so I like jeans that slim the hips and thighs. This pair did not do it for me.
Fit: Size up one size. Rating: 2.5/5. Did not purchase.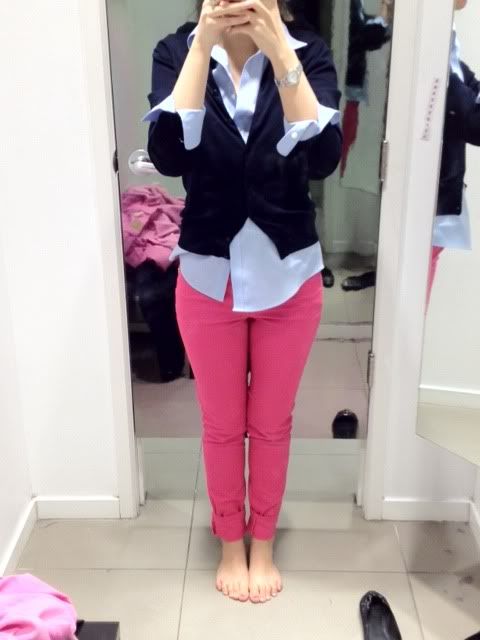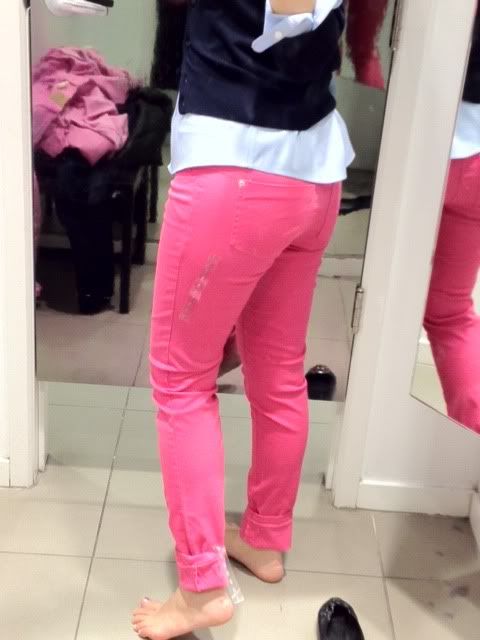 Guess:
Brittney Skinny Jeans ($98): I liked this pair a lot. I sort of slimmed down my hips and thigs and elongated my legs. The fit wasn't too tight which was good. Passable for me. I was going to return to this store if I did not find anything better.
Fit: true to size. Rating: 3.5/5. Did not purchase. Available here.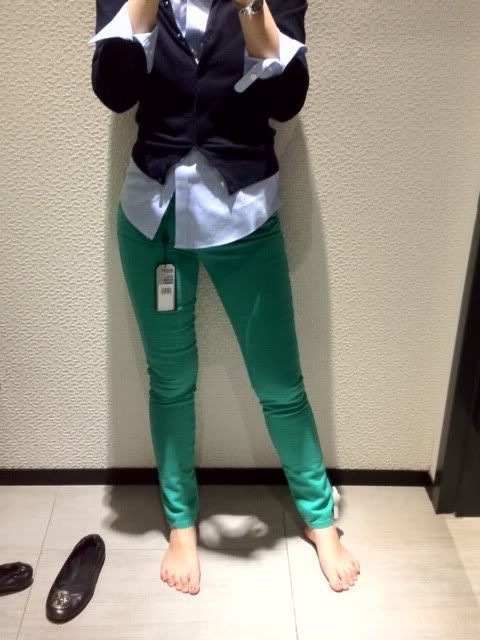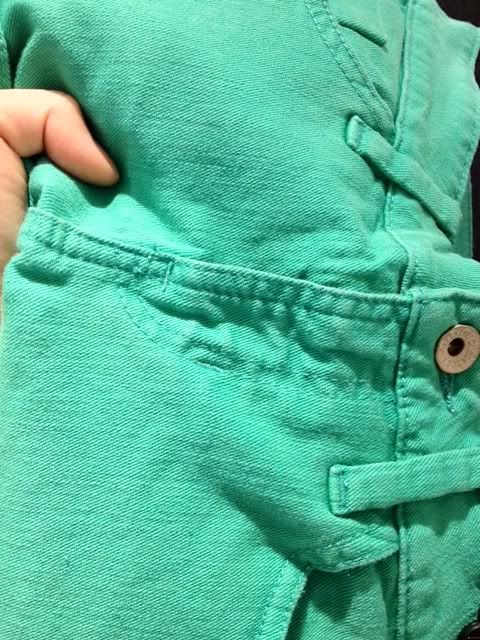 Zara:
Pale Pink Skinnies ($29): I really wanted a light pink pair so I jumped at the chance. It was also marked down to $29 from $69, so I prayed that it fit. Again these were really small to size, as I fit into a size 8. I am normally a 2/4 in Zara. These jeans were pretty horrible too. They were quite tight and unflattering on the hips and thighs. I also was not a fan of the bottom side zipper. The sale in Zara was formidable and I was able to purchase a few other things instead.
Fit: Size up 2 sizes. Rating: 2/5. Did not purchase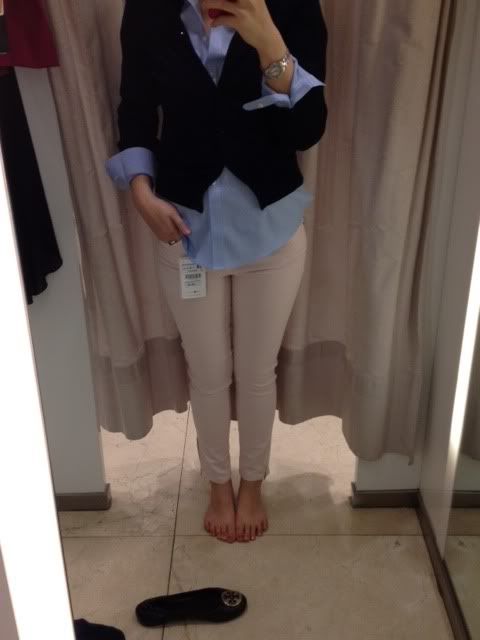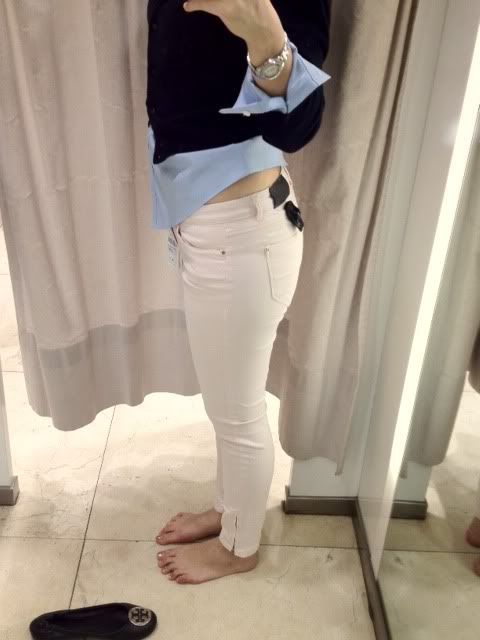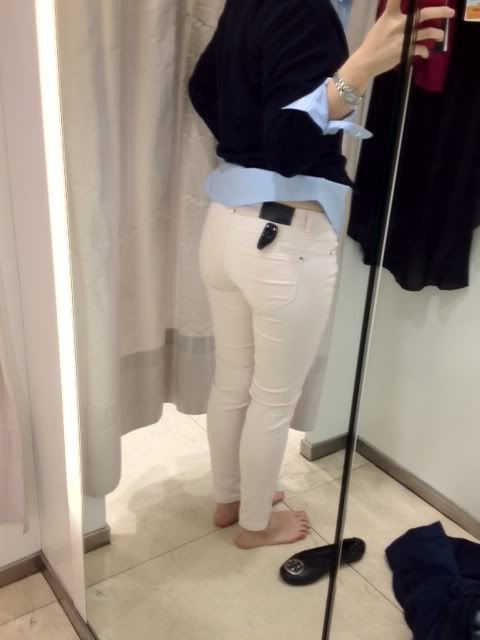 BREAK TIME: At this point I had rejected so many jeans. I was feeling quite bummed. :( But I didn't give up! Let's continue!
Express:
Zelda Jean Legging in Dusty Rose ($79.90): I saw this on one of the sales assistants and fell in love! The color was a light muted pink, similar to the Zara ones but a little more saturated. It was okay on me. Passable.
Fit: True to size. Rating: 3.5/5. Did not purchase. Available here.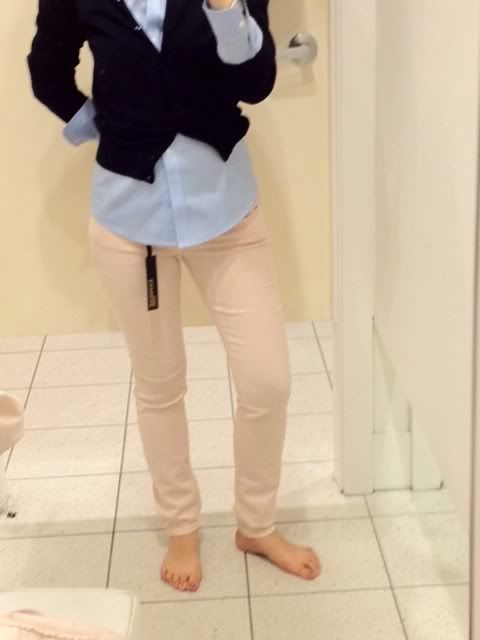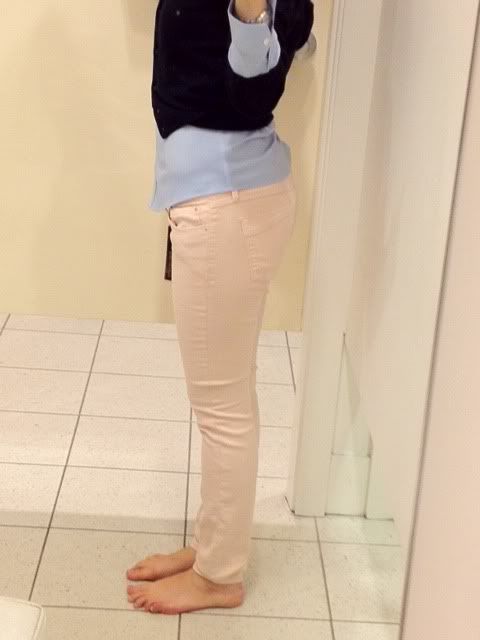 J Crew:
Toothpick jean in garment-dyed twill in Festival Green ($108): I liked these jeans a lot. Althought they are not as slimming as I hoped, I liked the ankle-length and it looks a little better than the pictures suggest. I was a size 26 in their toothpick blue denim, but sized up to 27 for this pair.
Fit: Size up 1 size. Rating: 4/5. Purchased. Available here.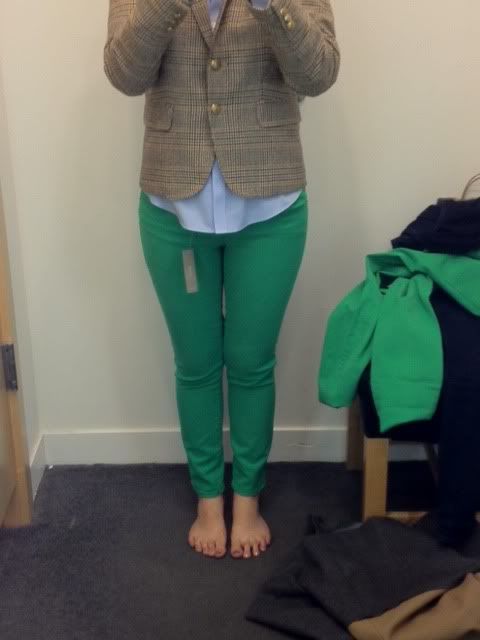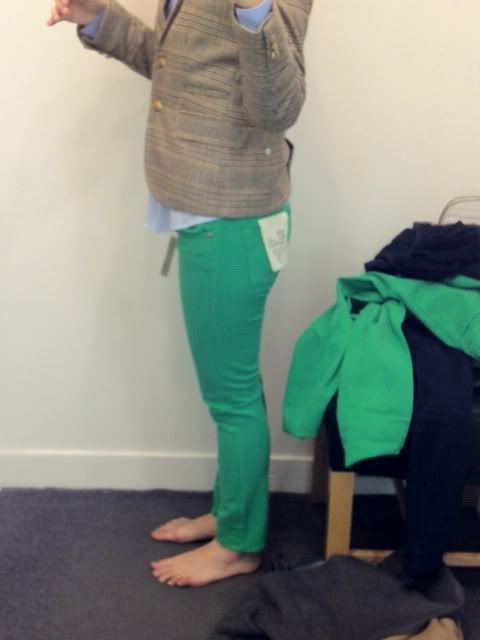 My last store: Nordstrom B.P.
Love Fire Jeans ($42): FINALLY. GREAT FITTING JEANS and at a price that can't be beat. I loved how the jeans really slimmed my hips and were not too tight. For the lighter pink denim, I was wearing a size 3 in the picture, but purchased a size 5 for a better fit. Be forewarned though, for ladies with straight or super slim hips, these jeans do not fit too well. It sort of slims the hips too much for them (my two skinnier friends tried them on and the denim didn't work on them) So my guess is that these jeans flatter women with curvier hips? So obsessed, buying the rest of the colors online.
Fit: True to size. Rating: 5/5!!! Purchased in a jiffy. Available here.